Wholesale lumber is a type of lumber that is generally sold to retailers and other customers in large quantities. In many cases, resellers purchase these lumber products in bulk from suppliers at a price that is well below the standard retail price. This enables them to offer the lumber to their customers at competitive prices.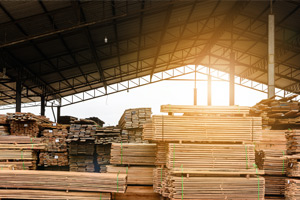 What Can Industrial Wholesale Lumber Be Used For?
Many different types of wood are sold as wholesale lumber, including industrial hardwood lumber, treated lumber, plywood, and sawn lumber. Wholesale lumber often has first-level quality, which means it is ideal for a range of applications. Outlined below are some of
the most common uses of industrial wholesale lumber. 
Industrial Hardwood Lumber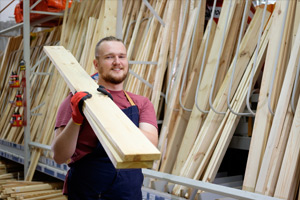 Industrial hardwood lumber is a type of lumber that is made from the remaining part of logs that cannot be sawn into a usable grade of lumber. Hardwood products are suited to a broad range of applications in which a stronger and denser species of wood is required. This industrial lumber is used for creating products such as railroad ties, board road, timber mats and hardwood pallets. It is also suitable for shoring, blocking, pipeline skids and mats, road and bridge construction and other applications. 
Banding Groove Boards
Banding groove boards can be used to protect loads from damage due to the tension of strapping while preventing strapping from sliding off of products. Banding groove boards are used for glass, aluminum pipe, sheet metal, steel pipe, automotive parts, windows, doors, flooring and siding. 
Sawn Lumber and Panels
Rough sawn lumber can be used for a variety of home projects. Flat or plain sawn lumber is suitable for hardwood flooring and decorative shelving, while quarter sawn lumber is used to create high-quality wood pieces like musical instruments. Other sawn lumber and panel applications include wedges, boards, toe boards in roofing, decking, bed frame components, stakes, blocking and dunnage. 
Wholesale Pallet Cut Parts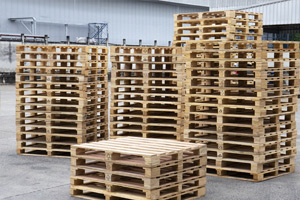 Many industrial wholesale lumber suppliers have the right tools to make a range of cuts for the pallet and wood-packaging industry.
Other Types of Wholesale Lumber
In addition to industrial lumber, many wholesale lumber suppliers offer other types of lumber that can be used for a broad range of projects. Such products are outlined below:
Treated Lumber Products
Treated lumber is a type of wood that has been treated to prevent future damage from natural decay, fungus, wood rot and insects, making it ideal for structures that need to stand up to the elements in the long term.
One popular type of treated wood offered by wholesalers is Pyro-Guard. This pressure-impregnated, fire-retardant treated lumber is ideal for enclosed structural applications such as floor joists, shelving, load-bearing walls, studs, partition walls, stairways, stages, plywood subfloors, roof trusses, rafters, electrical panels and mezzanines.
Another in-demand type of treated lumber is micronized copper azole lumber. This wood has been treated with a preservative that makes it resistant to attacks from termites and the type of fungi that lead to decay. Micronized copper azole can be used in above-ground applications as well as those that will have contact with the ground or freshwater. Both stainable and paintable, it is ideal for decks, walkways, docks, play structures and other projects where the lumber is expected to be exposed to the elements. 
Plywood Products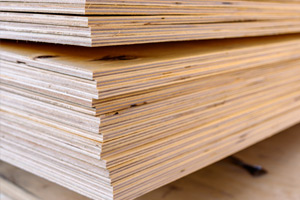 Plywood comes in a broad range of sizes. It can be sourced from many types of wood, and different varieties are suited to different applications. For example, southern yellow pine plywood is a strong and stiff plywood that works well for wall sheeting and roof products.
ACX plywood products can be found at many wholesalers and are considered a high grade of plywood thanks to their strength and durability. ACX Radiata pine plywood has a smooth and sanded finish that makes it ideal for projects that require sanding and painting. In particular, it is often used for shelving and cabinets thanks to its smooth grain and lack of defects, which give it a very high-quality appearance. ACX Douglas fir plywood, meanwhile, is another type of plywood with an attractive finish that can be used where durable plywood is needed, such as in building walls and flooring.
Some wholesalers carry marine grade plywood that is made with a type of waterproof glue and is lightweight and strong, allowing it to hold up to moisture and high temperatures. Considered one of the most efficient styles of plywood, marine grade plywood is sourced from Douglas fir to give it strength and durability while allowing it to remain lightweight. This type of plywood is used for outdoor projects such as porches, decks, patio furniture, garden benches and backyard playhouses in coastal areas. It is available in a range of sizes, weights and grades. 
Reach Out To The Industrial Wholesale Lumber Experts
If you are looking for a supplier of high-quality industrial wholesale lumber and other types of lumber, get in touch with the wholesale lumber experts at Curtis Lumber & Plywood. Their knowledgeable staff will be happy to help you source the lumber you need.