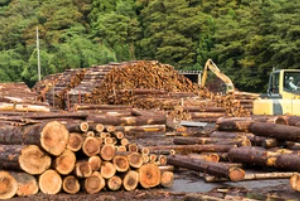 Retail store owners and franchisees who sell wood often get their supply from one of two main sources: a wholesale lumber yard or a big box store.
Although the big box stores do offer a reasonable variety of wood at affordable prices, local lumber yards are a better choice for several reasons.
Outlined below are six of the biggest benefits retailers can enjoy by purchasing wood from a local lumber yard instead of a big box store. 
Lumber Yards Offer High-Quality Wood
Big box stores are often able to offer attractive pricing to their customers because they tend to take some shortcuts when it comes to quality. The big chains generally make decisions based on their return on investment while quality takes a backseat.
At suppliers, however, their entire reputation is staked on the lumber that they offer, which means that their main criteria in selecting the wood they sell is quality.
Lumber Yards Offer Affordable Prices
Although some people believe that the big box stores offer the best prices on home improvement products, that is not always true when it comes to lumber. One big factor that goes into determining the cost of wood is how frequently and in what volumes it is purchased from suppliers.
Lumber yards tend to buy in large quantities and have a high turnover because they only sell lumber, which means they are able to keep their prices very competitive with big box stores while offering wood of a higher standard. As a retailer, building a relationship with a local lumber supplier can help you get access to the best wood at the most favorable prices. 
Lumber Yards Have A High Knowledge Of Products
The employees at big box stores must possess knowledge about an impressive number of products, from tools and electrical equipment to bathroom fixtures and lumber.
Because they need to keep track of information about so many different types of products, they are not able to achieve the in-depth knowledge of lumber that you would find with lumber yard staff.
People who work in lumber yards are devoted solely to wood and understand all of the details related to the different species and cuts of lumber.
Not only does this mean that they can answer all of your questions about the different types of wood they sell, but it also gives them the insight to guide you toward the best lumber for specific projects.
They can also advise on treated lumber that provides additional protection from issues such as rotting, insects and fire. As a retailer, this can help you keep your customer satisfaction levels high. 
Lumber Yards Have A Vast Selection
Another advantage that lumber yards have over big box stores is the fact that they are devoted entirely to selling wood. This specialization means that they offer a significantly greater selection of wood than a big box store can offer.
Big box stores generally only offer the most popular types of wood in limited quantities. In addition, lumber yards can often place special orders for rarer varieties of wood, allowing you to meet the needs of all your customers. 
Lumber Yards Take Great Care of Wood
Lumber yards typically take better care of their lumber than the big box stores. Lumber yards are set up with the optimal environmental conditions in mind for storing wood and preventing damage and deterioration.
They can also pass this knowledge along to their retail customers to ensure that wood is in optimal condition when customers make their purchase.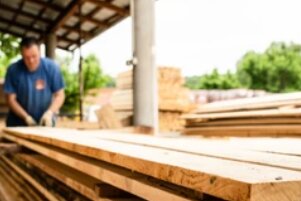 In big box stores, in contrast, lumber is not able to get the specialized care it needs. It is often stored in tight stacks that do not have much airflow.
Moreover, heavy foot traffic at these stores means that many people sort through and pick over the wood, potentially damaging it in the process and leading to chipping and bowing while compromising the strength of the boards. This means it may take some time to sort through the wood on the sales floor to find suitable pieces. 
Lumber Yards Offer Custom Cuts
Big box stores can cross-cut wood to certain lengths, but if you need to sell wood with any type of custom cut, only a local lumber yard will be able to custom mill wood to the specific width and length you require.
Reach Out To The Wholesale Lumber Suppliers
If you are a retailer who is looking for a reliable source of high-quality lumber for resale, get in touch with the wholesale lumber suppliers at Curtis Lumber & Plywood.
This wholesale lumber distributor has been serving the Northern Virginia area since 1957. Curtis Lumber & Plywood specializes in treated lumber and plywood products, such as copper azole and pressure-treated fire-retardant lumber. They offer a broad range of general lumber and can place special orders to help retailers get exactly what they need.