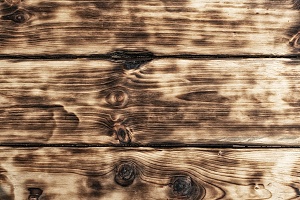 Purchasing fire-retardant-treated wood (FRTW) is the best way to ensure your plywood in any application is protected from fire. In addition, you can also fireproof plywood yourself. Fireproofing wood yourself may not make it completely fire-resistant, but it can slow the spread of fire and give you more time to stop the flames before they spread uncontrollably.
If you are a manager of a construction crew that is working on a large commercial project, understanding the proper way to fireproof wood is a great skill to learn to ensure optimal safety.
How to Fireproof Wood
The best way to ensure your wood is fireproof is by purchasing fire-retardant-treated wood, but this may not always be an option. If you have already purchased plywood that is not treated and you would like to make it more fire-resistant, you can do so by understanding what makes wood fireproof, gathering all of the necessary materials, and following the steps laid out below.
Fire-treated wood resists fires due to the layer of fire-retardant chemicals. Plywood professionals understand how to apply the retardant chemicals to wood to prevent the wood from catching fire. You can follow the same process on your own. Below is a step-by-step guide on how to make the retardant solution and apply it to the wood.
Gather Materials
The materials you need may vary based on your exact plans. You should also take into consideration the amount of wood you intend to fireproof, which will affect the amount of each material you need. In general, all you will need is a small bucket, water and the chemicals listed below:
Zinc chloride
Ferric chloride
Boric acid
Ammonium phosphate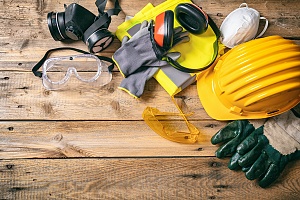 You will also need protective equipment, as the chemicals involved can be dangerous, especially if ingested. Be sure to wear the protective equipment properly and ensure no chemicals touch your skin. Once you gather all of the necessary materials and organize them to be easily accessible, you can begin the wood fireproofing process.
Mix Chemicals With Water
First, you will need to make the retardant solution. You can begin by adding two quarts of water into a small bucket. You will then need to add the zinc chloride (1/2 cup), ferric chloride (1/4 cup), boric acid (4 tbsp.) and ammonium phosphate (4 tbsp.) before mixing the ingredients together. Stir the mixture thoroughly, but be sure to avoid spills or splashes as best you can.
It is important to keep in mind that the aforementioned chemicals have the potential to damage skin or cause severe health concerns if ingested or inhaled. Be sure to wear protective equipment (gloves, facemask, long-sleeves, etc.) when mixing the chemicals with the water.
Paint or Spray Onto Wood
After mixing the fire-retardant solution, you can then apply the mixture to the wood. For best results, apply two or three coats to the plywood. This ensures it is well-protected, but also keeps its natural look.
You can either paint or spray the mixture onto the wood. Each option is similarly effective, and the choice is based on your personal preference. When applying each coat, use caution to ensure the mixture goes directly onto the wood without getting on your hands or other parts of the body.
Purchase Fire Treated Wood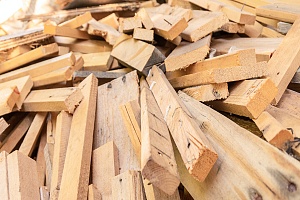 Fire treated wood is kiln-dried wood that has not yet had retardant chemicals applied. It is possible to fireproof wood yourself. It is important, however, to keep in mind that the results will not be as effective as fire-treated wood, because the process used by suppliers of fire-treated plywood is far more comprehensive, and many use a process that takes much longer to ensure the plywood is much less combustible.
In addition to ensuring optimal safety, purchasing fire-treated wood often offers added aesthetic benefits. Applying a fireproofing coat of a chemical solution to your plywood may affect the aesthetics. Professional lumber suppliers know how to keep the natural look of the fire-treated wood and ensure it can easily be painted over without compromising the fire-retardant chemicals.
Consider Working With a Wholesale Lumber Supplier
At Curtis Lumber & Plywood, we understand the importance of having the right building materials during a construction project, especially for those who must meet safety requirements established by the International Building Code (IBC). Fire-treated wood offers superior protection over traditional combustible plywood, and understanding your needs is essential to a successful construction project.
Get in touch with us today by giving us a call or visiting our website to learn more about fireproofing wood and purchasing fire-treated plywood. We are glad to answer your questions and help you decide on the best course of action for your project. We offer high-quality fire-treated wood, which offers superior protection and is far less flammable than traditional plywood.