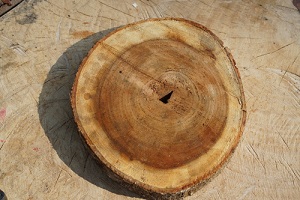 Although you may be able to find some beautiful pieces of lumber from a great wholesaler, there are not a lot of truly perfect pieces of lumber out there. Lumber often has what are known as defects, or faults that can detract from its appearance and utility to varying degrees.
Some of these may be present when the wood is produced, while others could develop or worsen as the wood ages. Not all defects render a piece of lumber unusable, however.
Commonly Found Lumber Defects
Higher-grade lumber is less likely to have defects, but it is still important to carefully inspect the wood you buy, particularly if aesthetics will be a concern in the finished product.
Here is a look at 7 common lumber defects you should be aware of.
Wane
Wane is a bit of missing wood on the side of a piece of lumber. It might also manifest as the presence of bark. Typically only a concern with lower-grade lumber, wane can sometimes be concealed in certain applications simply by turning the board over. They can be difficult to catch if you do not inspect the sides of your lumber carefully.
Splits
Splits are single cracks running from one end of the lumber to another, and should be avoided at all costs because they can significantly impact the lumber's strength and put the safety of the finished product in jeopardy.
Knots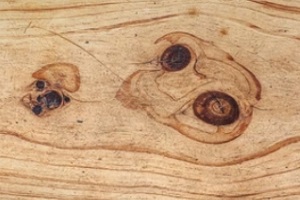 Knots are one of the most common lumber defects, and they are caused by the presence of a branch in the tree from which the lumber was obtained. They are a natural part of all types of wood, and some people even desire wood with knots on account of its more rustic appearance.
There are a few types of knots to be aware of. A pin knot is the smallest type and tends to be sounder structurally and less visible, so you may even find these knots on higher grades of wood.
Spike knots may be found at the end of lumber and should be cut out when used for surfaces like decking. Tight knots do not affect the strength of the wood. Fine knots are purely an aesthetic concern, but loose knots and knotholes could compromise the wood's structural integrity, so be sure to inspect your lumber carefully.
Checks
Similar to splits, checks are cracks that run across the lumber's growth rings, although they do not run the entire way through the board. As such, they generally do not compromise the structural integrity of the board. They usually run lengthwise and may occur when lumber dries out too quickly or unevenly.
Shake
A shake is seen when the grain between the growth rings within the wood separates. It may be found on the face of the board or below its surface. It can be thought of as similar to a small straw within a larger straw; when stood upright, the smaller one can fall out through the bottom of the larger one.
Ring shake is created by parasitic bacteria that weaken the lumber, which causes cracking seen parallel to the growth rings of the tree. This adversely impacts its strength and can also create dark discoloration on the lumber and an unpleasant odor. This defect is more common in wood that has a high moisture content.
Bow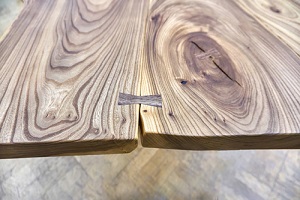 A bow is seen when a board bends along its grain lines. This means that when you rest the board across a flat surface, both of its ends will be in the air rather than resting flat against the surface. There is not warping across the grain, however.
Bowing can be caused by uneven air circulation around the wood as it dries. Unfortunately, bowing can lead to internal stress that makes the lumber difficult, even dangerous, to cut.
Crooks or Crowns
Crooks or crowns are defects that are found in lumber that is bent from end to end in the direction of the board's tall ends, continuing down the length of the board. Uneven drying is one of the most common causes of this problem; it may also occur if the tree's soft center core, or pith, sits at the edge of the board. Although this type of wood is not ideal, it may be possible to rip the board to create a straight, narrower board, or create multiple passes through a jointer.
Reach Out To The Northern Virginia Wholesale Lumber Suppliers
If you are looking for a wide variety of high-quality lumber and plywood, including a range of popular treated and specialty products, get in touch with Curtis Lumber & Plywood. Our experienced staff is happy to answer your questions and help you find the lumber you need.