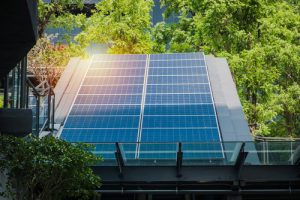 In a world in which environmental friendliness becomes more important by the day, individuals and businesses are beginning to seek out new construction methods. Building green refers to a method of construction in which environmentally responsible measures are taken throughout the entire process, from planning and construction to demolition. There are many environmental advantages of building green.
In addition to potentially lower energy costs and a more comfortable living experience for homes and commercial properties, there are also many environmental benefits of building green. By becoming familiar with the environmental advantages, you can make a more informed decision as to whether or not green building is right for you.
Top Advantages of Building Green
More people are shifting away from the traditional approach to construction, and many are finding going green to be an overall more rewarding experience. Many are familiar with the ability of green building to lower monthly utility costs for homes and businesses, and most have probably heard about how it can help the environment.
However, fewer are familiar with what the entire range of benefits are. The following is an overview of four of the biggest advantages building green has on our environment.
Environmentally friendly
Environmentally friendly, or eco-friendly, simply refers to products, material or action that does not harm the environment. In other words, construction that helps or does not hurt the Earth is typically considered environmentally friendly.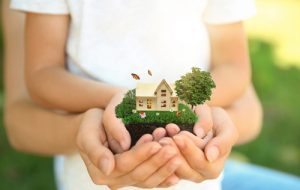 The primary purpose of building green is to protect the environment from any damage. There are many ways in which construction can hurt the environment, such as making excessive waste or contributing to poor air quality. There are many ways green building protects the environment, including using material that does not deteriorate over time, limiting or eliminating waste and not using chemicals that may lead to air quality concerns.
Also, using higher-quality material that is environmentally friendly can have a positive impact on home value as well. There may even be government and utility incentives in the form of grants, tax exemptions, local rebates and more for homes and businesses that choose to build green.
Energy efficient
Energy efficiency means less energy is required for operation. As it relates to residential and commercial construction, energy efficiency ensures the home or commercial property runs on as little energy as possible by constructing the home in a manner that keeps the home at the desired temperature with little effort.
Building green is a way to achieve optimal energy efficiency, and it involves using renewable products and resources. It also may include using solar panels and natural gas to power part or all of the home or business. Not only does this help reduce human greenhouse emissions, but it also allows home and business owners to enjoy savings on electricity expenses.
For commercial properties, a more comfortable and energy-efficient building may even increase production, employee attendance and promote a more positive work environment. It can also increase employee motivation by helping employees feel great about the company they work for, making them excited to come to work.
Responsibly using water and materials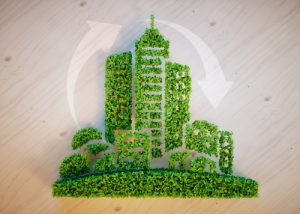 Building green is also concerned with the amount of water and materials used both during the construction process and long-term. Green building construction typically involves planning and constructing the home in a manner where the owner of the property can comfortably use water and other materials without wasting any that they do not need.
As our world transitions into one that is more environmentally conscious, water conservation is more important. It is estimated that Americans use on average 88 gallons of water a day, much of which is not necessary. Through water-efficient fixtures and appliances, we can cut down on water waste significantly.
Waste reduction
One of the biggest contributing factors to our carbon footprint is waste. The old-fashioned way of construction generally involves a lot of wasted materials. However, building green seeks to reduce waste as much as possible. This has a strong impact on our environment and can ensure the least damage to our environment for numerous generations to come.
Building green eliminates waste in a variety of ways, including by reusing or recycling materials whenever possible and building in a manner that is clean and non-detrimental to the environment.
The reused, recycled and renewable materials used do not emit greenhouse gases, and the construction process generally utilizes solar panels and other environmentally friendly resources that can reduce waste. Additionally, reducing water usage can have a significant impact on utility costs each month.
Consult with Curtis Lumber for Your Project
Curtis Lumber and Plywood is here to help you with your green building desires. Our professional and experienced team has the knowledge, training and resources to carry out green building projects of all sizes, from small home renovations to large commercial construction.
You can reach our team via phone or email for more information, and we are happy to discuss your green building needs and answer any questions you may have. Our team is friendly, dedicated and we help our clients through the entire project.