One of the most important elements of any construction project is the quality of the building materials being used. When it comes to wood and plywood, in particular, there are many varieties on the market that can make it complicated to find the best products to sell in your retail store. Outlined below is some guidance for finding the best plywood for your retail store to ensure customer satisfaction.
Understand Plywood Grading Systems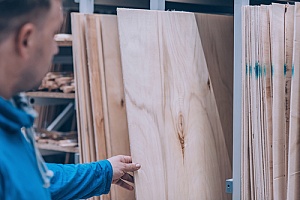 Grading systems differ for softwood and hardwood plywoods. Both systems assign an appearance value to the front and back faces and a classification indicating its suitability for exterior or interior applications. Softwood panels may also have a structural or use rating.
Softwood Grades
The most common softwood plywoods are made from a variety of spruce, pine, or fir species. Front and back veneers are assigned an A, B, C, or D grade. A is the highest rating, having few if any, knots or repairs. At the low end of the spectrum, D veneers can have knots and voids. Note that the grade of the back veneer indicates the minimum grade of veneers used for the plywood's core layers. For example, an AC panel's core layers will be at least a C grade.
Panels may be rated for use as exterior siding, single-layer flooring, or sheathing for roofs, subfloors and walls. Rated sheathings may further carry a Structural 1 ("Struct 1") designation, indicating the panel provides additional cross-panel and diagonal ("racking") strength properties.
Marine-grade is a premium, appearance-grade panel for use when aesthetics, strength and longevity are equally important. Marine Grade panels are typically AB or BB, sanded on both faces, and have solid core veneers. Solid core veneers minimize edge gaps and maximize strength and fastener holding capacity.
Marine-grade plywood is not innately resistant to rot, fungus or pests. If being used in an exterior or high humidity environment, marine-grade panels must be treated, painted, stained, or otherwise protected with a penetrating sealer or water repellant.
Hardwood Grades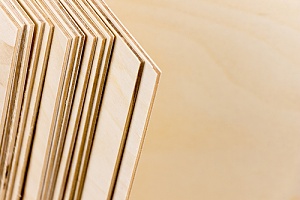 Plywoods with hardwood veneers carry an A-D face grade and 1-4 grade for the back veneer, with 1 being the best. Birch, maple and oak are among the more common hardwood panel species.
Hardwood veneers can be sawn in a variety of ways to bring out the unique qualities of the grain of each species. If cabinetmakers and furniture craftsmen are among your customers, being familiar with the milling types and resulting panel appearance will help you provide the right panels for them. (Curtis Lumber & Plywood does not trade in hardwood plywood or lumber, but this Grading Guide from one of the hardwood mills may provide additional helpful details.)
Consider the Source
Plywood quality begins with the mill producing the panel. For each grade of plywood produced there are industry and governmental standards that must be met. Mills demonstrating that their products meet these standards can be certified by one or more industry certifying bodies. Plywood from APA-certified mills is often specified in project requirements. Stocking material from APA mills will help your contractor customers more readily meet these project requirements.
Ask your wholesaler or plywood source if their material is sourced from mills certified by APA or another certifying body. Rated panels from certified mills typically carry a grade stamp on the back indicating its rating and associated certifying body. On appearance grade plywood, look for the stamp on the side of the panel. Thinner panels may not carry a recognizable stamp.
Know Your Customer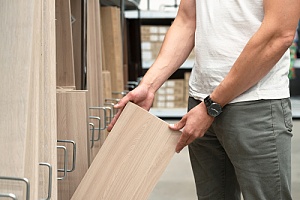 Bringing in the right plywood starts with knowing the customers you are trying to serve best. A yard serving primarily the construction trades will likely want to maintain larger quantities of rated structural sheathing and underlayment than other grades. Pressure-treated fire-retardant-treated materials are increasingly specified by building codes for multi-unit and single-family construction projects, it's a good idea to stock this type of treated plywood in addition to your preservative treated panels.
Softwood and hardwood appearance grade panels are also good to have on hand for both contractors and do-it-yourselfers. As these panels tend to have a higher cost basis than most untreated sheathings, knowing the grades and species of softwood and hardwood panels your customers need most will help you best diversify your product mix while staying on budget.
Reach Out To The Plywood Experts
If you are looking for a dependable wholesale source of high-quality, APA-rated sheathing and pressure-treated fire-retardant plywood to supply your retail store, get in touch with Curtis Lumber & Plywood. We have been serving the Northern Virginia and mid-Atlantic area since 1957. Our team of lumber experts is happy to discuss your needs and help you obtain the plywood your customers seek.