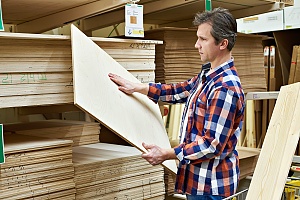 Humans have been burning wood for thousands of years. The easy flammability of wood is terrific when people need to stay warm or cook food, but it is not a very desirable feature when it is being used to build a home. Modern treatments can be applied to wood that will help minimize damage in the event of a fire. For example, sprays can be applied to wood that will make it fire-resistant to some degree.
When the treated plywood is exposed to extreme heat, the barrier created by the spray will prevent it from combusting. There are also solutions that can be painted onto wood to help make it flameproof. Those applications may be sufficient for simpler projects, but building construction requires a higher degree of safety.
Why Is Fire-Retardant Plywood Good To Use?
Many building codes call for wood that is fire-retardant, which means that it has had an approved fire-retardant solution infused into it using a high-pressure system. Fire-retardant wood is able to resist ignition and can slow the spread of a fire. Although it can eventually burn, its treatment slows down the process, which can give people inside a burning building more time to make it to safety.
In addition, it can prevent some types of fires from starting since things like fireworks and lightning have a harder time destroying fire-retardant wood. It also tends to be stronger than untreated wood, which means it will decay less quickly. One type of wood that often requires fire-resistant or fire-retardant qualities is plywood. This is a sturdy type of wood that is made up of layers of wood that have been glued together, and it is used for a wide variety of applications.
Steps To Make Plywood Fire-Retardant
Making plywood fire-retardant is not a project you can do on your own because specialized equipment is required. However, it may be possible to supply your own wood and other materials to a company that specializes in making fire-retardant plywood. You can apply a fire-resistant coating to the plywood on your own, although it is important to keep in mind that this does not offer the same degree of protection as fire-retardant plywood.
Purchase The Correct Aqueous Material For Coating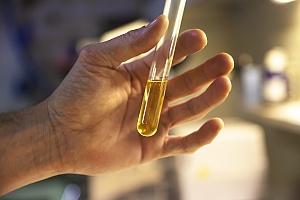 If you are going to take your wood to a company with pressure treatment equipment, it is best to ask them to supply the chemicals used for the fire-retardant treatment procedure. If you are simply applying a fire-rated treatment on your own, you can purchase an aqueous chemical solution. This solution is typically made on an individual basis for customers because the formula depends on the plywood's composition, rating, and thickness.
Dry The Plywood In A Kiln Before Using It
Plywood must be completely dried out in a kiln, which is a type of oven, before it can undergo the fire-retardant pressure treatment process. Wood absorbs a lot of moisture, and it cannot be placed into the kiln until its weight is around 70 percent wood and 30 percent moisture. The process of drying wood in a kiln can take several weeks. The wood will not be removed until its moisture level has dropped below 10 percent. It then undergoes quality checks before it can be used in construction.
In addition to drying a lot faster than air-dried wood, kiln-dried wood usually has fewer defects. Moreover, the high temperatures of the kiln can kill any mold, fungus, or algae that is present on the wood. If you do not have access to a wood-drying kiln, the pressure-treating company you hire may be able to handle this step for you or provide you with wood that has already been dried in a kiln.
Apply The Aqueous Material Or Chemical To The Plywood
You can gather your own materials if you wish, but you will need to hire a company that specializes in wood pressure treatment to carry out this step. The chemical solution must be infused into the plywood using high pressure at a high temperature for it to be considered truly fire-retardant and comply with the relevant building codes.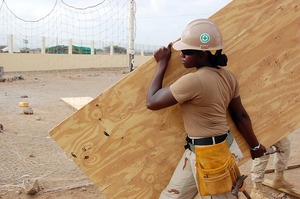 If you are working on a home project that is not required to be officially fire-rated, you can purchase your own fire-resistant chemicals and apply them to the wood with a paintbrush or roller. You should apply three coats in total, allowing the wood to dry completely between coats and before using the end product. Be sure to do this outdoors or in a room with excellent ventilation.
Consider Hiring Fire-Retardant Plywood Specialists
Many people find it significantly easier to purchase plywood that is already fire-retardant from a reputable company. This is the best way to ensure you are getting a product that has been thoroughly tested and will deliver the expected safety features. Get in touch with the professionals at Curtis Lumber & Plywood to discuss the best type of wood for your project and learn more about their wholesale fire-retardant lumber. Call us at (703) 972-1947 or contact us online today to get started.