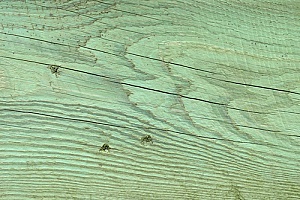 Pressure treated wood is a great option for a construction project for many reasons. However, these pieces of wood come with a greenish color that you might not love. Fortunately, this can be easily solved with a coat of paint over the wood to give it the color and style that you are happy with. By applying paint to your pressure treated wood, it will improve overall appearance.
Painting your wood will not just help it look the way you would like, but it could also help the wood last longer. This type of wood is not like others, though, and you will need to take some extra time to ensure that it is painted properly so it will last. If you are wondering how to paint pressure treated wood, follow our instructions below to get your project done in no time.
Wash Away Dirt and Debris
The first thing that you should do before starting to paint is to wash away any dirt or debris that is on the wood. You want to do this by washing it with soap and water and scrubbing every inch of the wood with a rag. Rinse the soap off the wood and dry it with a clean, dry rag.
Deeper Cleaning
However, if the wood is not in the best shape and needs a deeper clean, you could use a commercial wood cleaner and a power washer to do the job. This is typically done with pressure-treated wood that has been sitting for a long time or has signs of damage.
Dry and Assess the Moisture Content
After you have washed the wood, you will need to allow it to dry completely. For this type of wood, this could take a long time, even up to a few weeks. If you think that it looks and feels dry, you can test it by dropping water onto it. If the water beads, then it is not yet dry. If the water is absorbed, then you are ready to paint.
Prime and Cure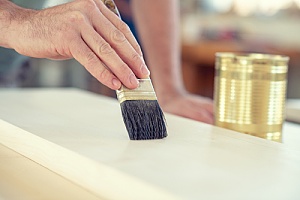 After you test the wood and see that it is completely dry, you can begin the painting process. You will need to start with a primer, which you can roll, spray or brush onto the surface. You want to make sure that you use a latex primer.
Once the wood is covered with primer, you will leave it to cure for the allotted amount of time. Each primer may take a different amount of time to cure, so it is important to read the instructions on the container so you allow the primer to cure properly.
Curing Time
The primer could take some time to fully cure, so leave the wood in a clean environment where it won't come into contact with dirt or dust in the air. If the area is a workspace where you do multiple projects, it is best to put them off until after this one is done or use a cover for the area. If you start working in the same room, you could get debris in the primer while it is wet.
Staining vs. Painting Pressure Treated Wood
Because you can stain or paint pressure-treated wood, you can choose between either method after the primer is cured. However, each option comes with certain positives and negatives, so it is best to weigh your options.
Staining The Wood
Stain can be used to change the color of your wood. This method soaks deep into the wood and can be easier to apply, however, it will not fill in cracks or imperfections in the wood as paint would. You also will not have the same amount of color options to choose from.
Painting The Wood
Painting your pressure-treated wood can give the wood new life with vibrant new color. With paint, you will have lots of color options to choose from, which can make a big difference in the look of the wood. This also gives you the choice to add brighter colors, unlike stain which only offers shades of brown.
Paint will also help fill in the cracks and imperfections in the wood to make a smoother appearance overall, which stain cannot. However, this method will take a bit longer to finish and will not soak into the wood as stain will.