Plywood is necessary for a broad range of commercial, residential, and DIY projects , making it a high demand item throughout the year. Plywood is manufactured across a wide variety of grades and thicknesses. Understanding the various grades and material qualities of plywood will ensure that you stock the types of plywood  your customers need.
Basics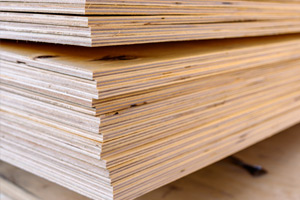 Plywood is one of the most recognized and trusted wood building products. Manufactured from thin sheets of cross-laminated veneer and bonded under heat and pressure with strong adhesives, plywood panels have superior dimensional stability, an excellent strength-to-weight ratio and can be highly resistant to impacts, chemicals, and changes in environmental temperature and humidity.
The "ply" in plywood refers to a layer of veneer that is used to create the different thicknesses of the plywood. When more ply is used, the board is stronger and thicker. In fact, plywood that has fewer plies will be weaker than plywood with more plies, even if the two plywoods have the same thickness.
Plywood is specified according to the grade of the face and back veneers, the species of wood used to make the panel, performance category, bond classification, and performance rating. Here's what you need to know about each attribute.
Grade
Face and back veneers are graded in descending order of quality, A, B, C-plugged, C, and D. The grade reflects the veneer quality relative to its natural growth characteristics and the number and size of repairs and imperfections allowed during the manufacturing process. For example, an "A-C" panel, will have a face with few, if any, repairs or splits while the back will have many repairs.
Wood Species
There are many species of wood used in the manufacture of plywood. The specific type used contributes to its overall strength and stability. Wood species are divided into five groups according to strength and stiffness, Group 1 containing the strongest/stiffest and Group 5 the least strong/stiff. Frequently used softwood species such as Southern Yellow Pine and Douglas Fir from the northwestern United States and western Canada are Group 1 species.
Performance Category
In short, performance category is the nominal thickness of the panel.
Bond Classification
Panels are manufactured in two adhesive bond classifications – Exterior or Exposure 1. Exterior panels are capable of withstanding repeated wetting and redrying or long-term exposure to weather. Exposure 1 panels are intended to resist the effects of moisture on structural performance due to short-term weather exposure that panels may be subjected to on a job site.
Bond classification is not indicative of a panel's resistance to mold, fungal decay or physical breakdown.
Performance Rating
Performance rated plywood is frequently specified by architects and engineers to ensure that building materials meet or exceed design requirements and building codes. Panels that are performance rated carry a stamp indicating the panel's performance rating, performance category, maximum span ratings, and bond classification.
Plywood panels are rated for three end uses: sheathing for roofs, floors and walls, single-layer flooring and exterior siding. Sheathings have an additional category, "Structural 1", denoting additional strength in the cross-panel direction and in racking (diagonal stress).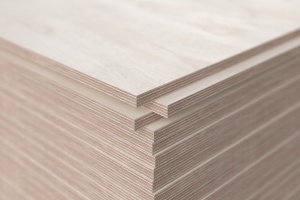 Types of Plywood To Carry
While the specific product mix you carry will be greatly determined by your current customers and those you want to attract, you will be served well if your mix includes the following types of plywood.
Rated Sheathings, Sturd-I-Floor & Siding – Southern Yellow Pine
Exposure 1 Rated Sheathing panels are the workhouse of construction projects. Building a core inventory of 4×8 1/2-, 5/8- and 3/4-inch SYP plywood is a no-brainer.
Treated Plywood
These days, there is an impressive range of treated plywood products that meet the needs of different types of projects. Retailers should consider carrying the following in-demand treated products.
Fire Retardant Treated Plywood
As fire-retardant treated plywood is required in many mixed-use, multi-family and single-family home developments, adding these treated products to your inventory will attract both commercial and residential builders.
Pyro-Guard® Plywood
Pyro-Guard treated plywood is pressure impregnated with a fire-retardant for use in interior, enclosed, above-grade applications not exposed to weather dampness or wetting. Pyro-Guard is made in accordance with the quality control procedures mandated by the International Code Council Evaluation Service (ICC-ES).
Exterior Fire-X® Plywood
Exterior Fire-X (XFX) plywood is pressure-impregnated with a fire-retardant that is uniquely able to withstand weather-exposed and humid environments, while also being safe for interior use.
Stocking 4×8 sheets of 1/2-, 5/8- and 3/4-inch Pyro-Guard and XFX sheathings and underlayment grade tongue-and-groove plywood will set you apart from big box stores and prove especially attractive to your professional builder clientele.
Preservative Treated Plywood
CCA, or chromated copper arsenate, is a wood preservative that gives plywood long-term resistance to termites, rot and decay. Known by its distinctive green tint, it has been a popular choice since it first emerged in the mid-1930s.
Micro-Guard™ Plywood
For Green building projects, the Micro-Guard treating process uses the Osmose® MicroPro® technology which is a GREENGUARD® Children & Schools Certified low-VOC product suitable for use in schools, offices and other sensitive environments. MicroPro is approved by the National Association of Home Builders (NAHB) for points toward National Green Building Standard Certification.
Micro-Guard plywood is kiln dried after treatment (KDAT) to reduce buckling or crowning after installation.
Stock 4×8 sheets of 1/2- and 3/4-inch of CA or Micro-Guard treated plywood.
Appearance And Specialty Plywoods
Marine-Grade Plywood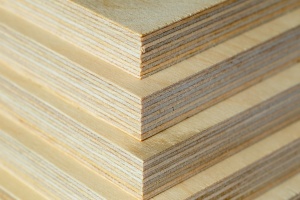 Marine-grade plywood is a premium panel for use when aesthetics and strength are equally important. These panels are sanded on both faces and constructed with A or B-grade veneers to minimize edge gaps and maximize panel strength and stability.
Though its name may suggest a panel innately resistant to moisture and rot, this is not the case. To achieve rot resistance, marine plywood requires a preservative treatment or other protective coating.
Considered lightweight and strong, stock marine grade Douglas Fir plywood in sizes ranging from 1/4- to one inch.
AC Plywood
For a finish-grade of plywood where only one face will be visible, AC grade Douglas-Fir or Radiata Pine panel is the go-to option when a Marine Grade ply is not necessary. Retailers should consider stocking it in sizes from 1/4 inch to 3/4 inch.
MDO Plywood
Medium-Density Overlay plywood is made using a plywood core finished with a layer of weather-resistant fiber that has been infused with resin to withstand heavy exterior use. MDO plywood is available with one or two overlay faces ("Good 1-side" or "Good 2-sides") and one or two faces primed or unprimed ("Primed 1-side", "Primed 2-sides" or "Unprimed").
Consider stocking MDO in 3/8" Good 1-side, primed; 1/2" Good 1-side and Good 2-sides in both primed and unprimed.
Reach Out To The Plywood Experts
If you are building materials retailer looking for a dependable supplier of quality plywood at a reasonable price, get in touch with the experts at Curtis Lumber and Plywood. We only stock top-quality products, and we specialize in treated plywood. Our experienced staff will be happy to guide you on the best type of plywood to keep in stock.