Construction workers and homeowners taking on DIY projects are increasingly working with fire-rated plywood thanks to its safety-enhancing attributes. This type of wood is sometimes required to meet local building codes, and using it can also lower insurance rates.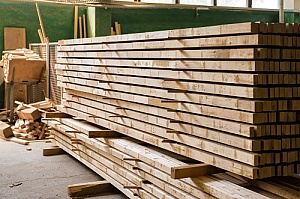 According to 360 Research Reports, the global market for fire-retardant treated wood is expected to grow at a compound annual growth rate of 3.1 percent throughout the next five years, which means that interest in this type of wood is expected to enjoy a steady increase1.
What Is Fire Rated Plywood?
Fire-rated plywood is a type of wood that is designed to perform better than standard wood in the event of a fire. It is infused with fire-retardant chemicals inside of a pressure chamber to give it the ability to resist ignition and slow the spread of fires.
How To Safely Work With This Plywood
When working with fire-rated plywood, it is important to follow the same precautions that would be used when working with any other type of wood. However, there are a few additional considerations to keep in mind when working on construction sites with older fire-resistant treated wood and when carrying out projects using newer wood.
Inspect The Roof Sheathing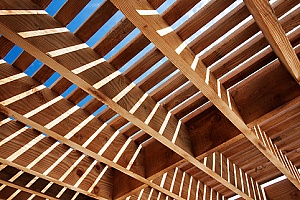 Older types of fire-retardant plywood in roof sheathing can weaken because of sun exposure and roof cavity temperatures over time, so it is important to have the roof sheathing inspected. Experts recommend looking at the roof sheathing from a safe position within the attic or the space under the roof.
Do Not Walk On The Plywood
When working in a building that has older fire-retardant treated plywood installed, it is important to not walk across any plywood in the roof as weakened plywood roof sheathing might give way. This could potentially cause personal injury or damage the roof. However, modern formulations hold up better than the plywood used in the past.
Wear Gloves & Eye Protection
Three of the biggest concerns about working with fire-rated plywood are inhalation of dust, eye contact and skin contact.
Skin Contact
It is important to wear leather or comparable gloves when handling wood for several reasons. First, it can help protect against the possibility of getting splinters. In addition, repeated or prolonged skin contact with wood dust or chips can cause mild irritation. It can also cause skin reactions in those who are allergic to the species of wood in question.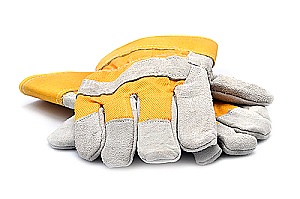 If someone experiences a skin reaction, it is important to rinse the wood dust off immediately using water, taking care not to rub it. This should be followed by a thorough washing with soap and water.
The recommended attire for working with wood is long-sleeved shirts, long pants and steel-toed shoes. Any clothing that comes into contact with the wood or wood dust should be washed before being worn again.
Inhalation Of Dust
Wood dust that becomes airborne, whether the wood has been treated or not, can cause irritation to the throat, lungs and nose when inhaled. In addition, if a person is allergic to the species of wood being handled, they could experience an allergic respiratory response. That is why it is recommended to wear an N95 mask that has been approved by the National Institute of Occupational Safety and Health while working with this type of wood.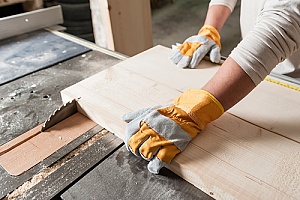 Wood should be cut outdoors with a saw or machine or in a well-ventilated indoor area. Precautions should be taken to prevent sparks because of the explosive potential of wood dust when it is suspended in air.
If a person inhales wood dust, they should leave the exposure area immediately. If they have stopped breathing, artificial respiration should be administered. If the symptoms persist, the individual should seek medical attention.
Eye Contact
Workers must wear eye protection while working with any type of wood because of the potential for wood dust to cause mechanical eye irritation. Those who do experience eye problems while working with this type of wood should immediately flush out any particles in their eyes using large volumes of water for 15 minutes or longer, if necessary. It is important not to rub the eyes. If the irritation persists, the person should seek medical aid.
Educate Your Team On The Product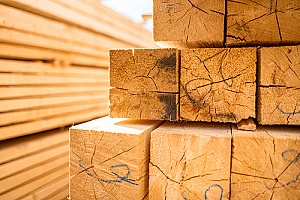 Be sure to teach your team about the safety precautions required when handling this type of wood. It is also important to ensure that fire-retardant wood does not come into contact with water or soil. The fire-retardant chemicals can leach into the surrounding soil and make their way into local water sources. In addition, exposure to excessive dampness can degrade the flame-retardant properties of the wood.
Speak To The Fire Rated Plywood Experts
If you would like to offer your next construction project the extra protection afforded by fire-retardant wood products, speak to the fire-rated plywood experts at Curtis Lumber & Plywood for experienced guidance on product selection and safety measures.