Fire retardant lumber is a chemically-treated product that resists ignition and slows the spread of a fire. Rather than simply being coated with an external fire retardant, the chemicals are fully incorporated into the wood for a dependable finish. They are also tested for their durability in facing high moisture, heat and corrosives. This type of wood has many benefits beyond its inflammable characteristics, making it an ideal choice for a variety of construction projects. Here are some of its many uses and applications.
When to Use Fire Retardant Wood
Fire retardant wood can be used in place of untreated lumber in a variety of settings. It is a popular choice for use in the interior of buildings as hall and ceiling support to protect building integrity in an emergency, particularly in residential buildings like townhomes. It can also be used for TV and theater props, exhibition stands, storage areas or as internal partitions between rooms in open-plan buildings to make it more difficult for a fire to spread through the open area.
In exterior projects, fire retardant wood is ideal for roof construction and shingling, which are typically areas of buildings that can be easily damaged by extreme weather conditions. This type of wood can also be used in support structure and framing construction, helping further protect the building in the event of a fire. Fire retardant wood is a particularly popular choice for agricultural and farm applications, such as sheds, feed storage barns and stables.
Because of the chemicals used to create it, fire retardant wood is not recommended for any projects that require the wood to be placed in-ground soil. It may also absorb too much of the soil's moisture.
Slowing Fires
The main benefit of fire retardant wood is its ability to slow down the spread of fire. While this type of wood can eventually burn, the chemicals with which it is treated help slow down this process and prevent fires from spreading quickly. In the event of a fire, this gives people inside the building more time to escape and emergency responders more time to assist. It also helps prevent these fires from happening in the first place, as lightning, flames and even fireworks that could otherwise damage the home will have a more difficult time destroying the treated wood.
Moisture and Heat Resistant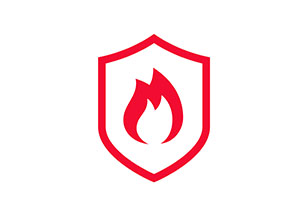 Fire retardant wood is excellent at resisting moisture and heat. Soaking this type of wood or exposing it to extreme heat is not recommended during everyday use, but in the event of a natural disaster or other emergency, fire retardant wood is typically stronger than regular, untreated wood. This is because it is subjected to high pressures during the chemical infusion process, creating a dense type of wood that can stand up to extreme conditions and decays less quickly.
Meeting Fire Codes
All communities have fire codes, which dictate how structures must be built for maximum safety. If a building does not meet these regulations, the owners can be fined and must immediately fix the issues, which can delay or even halt business entirely. Fire retardant wood meets and often exceeds building codes, making it an excellent choice for new construction and giving owners extra peace of mind during inspections.
Ease of Workability
Fire retardant wood is dense, but it is still easy to work with in construction projects. Depending on the type of fire retardant wood selected, builders can prioritize versatility, a more natural appearance, or the ability to paint and finish the wood. This means that aesthetics do not have to be sacrificed for the safety and security of treated wood. Instead, contractors can build structures that are both appealing and sturdy.
Lower Insurance Premiums
Many fire retardant woods are classified as "non combustible" for insurance purposes. This means that insurance companies recognize their protective capabilities and will lower your insurance premiums as a result, helping you save money on building maintenance. Fire retardant wood can also help increase the square footage over untreated load-bearing walls, further reducing your premiums.
Purchasing Fire Retardant Wood
Speak to Curtis Lumber & Plywood for more information or to purchase wholesale fire retardant lumber. The company's experienced staff can help you select a type of lumber that meets your wholesale needs and contributes to a safe and strong building. Curtis sells a wide variety of fire retardant lumber and other home improvement and construction materials, making it easy for you to find the tools you need to get started right away.