PyroGuard Plywood is a specially designed fire-retardant plywood building material specifically created for interior building applications. It is pressure-impregnated and fire-retardant making it an ideal product for any application that requires building materials that are high-heat and fire retardant. In this post, find out more about the benefits of fire-retardant wood and discover the top uses for PyroGuard Plywood.
About Pyro-Guard® Plywood
Fire-retardant wood is strength tested after exposure to moisture and high heats for long periods. Moreover, by impregnating the wood with fire-retardant chemicals, it prevents the wood from catching fire outright, limits the progression of flames, and allows the structure to take on less damage.
Fire Retardant Property Retention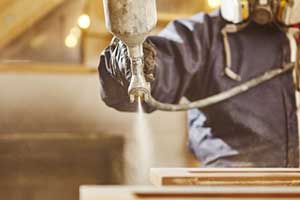 Being pressure-impregnated with the fire-retardant treatment means that when compared to products that utilize a superficial coating, fire-retardant plywood like Pyro-Guard Plywood will retain its fire-retardant properties much longer. When PyroGuard comes into contact with fire, for example, a non-combustible gas, along with water vapor, is created. A layer of protective char forms, which stops the fire from catching and insulates the wood against further damage.
Lower Insurance Costs
Pyro-Guard contributes to lower insurance costs by having a low rate of fuel-contribution to fires and heat release. It maintains structural integrity longer than many other building materials as well.
Non-Combustible Material Replacement
Pyro-Guard can often be approved as a replacement for non-combustible building material in areas such as walls and roofing. Moreover, it can safely be used with galvanized truss plates, plumbing, ductwork, conduit, and copper, and contains no halides, sulfates or ammonium phosphates.
PyroGuard Plywood Specs Storage
Pyro-Guard Plywood has been evaluated by UL, who has confirmed it is compliant in accordance with the International Building Code. See the report here UL ER7002-01. It has been strength-tested after exposure to 170 degrees Fahrenheit and does not contain VOCs.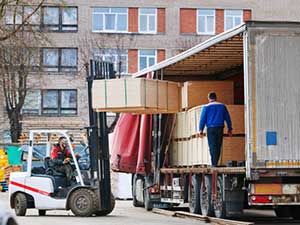 Always keep Pyro-Guard Plywood dry. As with other wood products, keep it covered and off the ground when storing it in outdoor areas and build sites. Be sure to provide adequate airflow. Finishing the product can be done with finishing products and paint, but be sure to test a piece first to ensure you maintain the integrity of the Pyro-Guard flame-retardant.
Uses For PyroGuard Plywood
The uses for PyroGuard Plywood are just as vast. Since it needs no special tools or additional products vs traditional plywood, it can be used in all the same applications of traditional plywood and more. The fact that it can be used in places that require non-combustible materials means that Pyro-Guard can actually be used in a variety of environments plagued by high-heat, as well. Uses for Pyro-Guard® Plywood include:
Plywood subfloors
Partition walls
Wall structures
Platforms
Stages
Shelving
Electrical and telecom panels
Rafters
Interior beams
Rafters
Floor joists
Mezzanines
Stairways
Steps
The applications are truly endless. If you can use plywood, you should use PyroGuard; it's that simple! This product will ensure a safer and overall more quality structure, and give you peace of mind knowing that it won't ever go up in flames.
Advantages Of Using Pyro-Guard® Plywood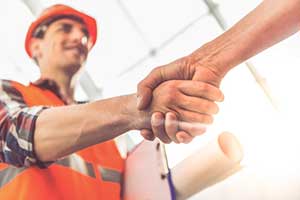 There are many advantages to using PyroGuard for all of your plywood needs. As mentioned previously, being pressure-impregnated with the Pyro-Guard fire retardant makes the wood (and therefore your structure) more reliable, while lowering the risk (and cost) of repairs. This can result in reduced insurance rates as well as lesser out-of-pocket costs.
No Special Tools Required
Using PyroGuard Plywood also requires no special tools or skills, and can be used in place of other types of plywood with no change in building classification. Trusses and roof decks made with Pyro-Guard usually qualify masonry wall buildings as non-combustible as well.
Increased Square Footage
Using PyroGuard for wood partitions instead of regular plywood can allow for more square footage, and again, will lower insurance rates. Instead of parapet walls in multi-family dwellings, wood roof decking made of Pyro-Guard can often be used.
Fire Insurance Rate Reduction
In addition to sprinkler systems, the use of PyroGuard can further reduce fire insurance rates. The smoke released by Pyro-Guard has been rigorously tested and has been found to be no more toxic than smoke released by any other untreated wood.
Increased Safety
Pyro-Guard Plywood is a safer plywood to use all around. Using fire-retardant building materials can ensure that you are providing a safer, more trustworthy, structure that holds its integrity over time. In fact, there is a twenty-year warranty on properly installed PyroGuard Plywood that will cover replacement and labor costs if it does not perform as intended.
Acquire Pyro-Guard® Through A Wholesale Lumber Distributor
For more information about PyroGuard Plywood and its benefits, please speak to the wholesale lumber distributors at Curtis Lumber & Plywood. We are always available to attend to your PyroGuard needs and answer any questions you may have.