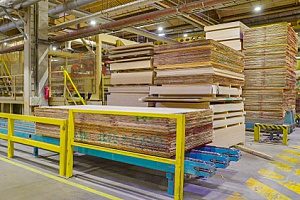 Chromated Copper Arsenate (CCA) treated plywood protects against both decay and insect damage. CCA treated wood is instantly recognizable for the greenish tint it imparts to plywood.
Extremely effective and durable, CCA treated plywood is used wherever wood structures contact soil or concrete and in other exterior projects where decay resistance is required.
How CCA Works
When wood is pressure-impregnated with CCA, chromium acts as a chemical fixing agent assisting the other chemicals to adhere to the wood's cells. Copper protects the wood against decay, fungi, and bacteria. Arsenic is insect-killing agent while also improving weather-resistance and long-term paint-adherence.
CCA pressure-impregnated preservative treated lumber and plywood is designed for long-term performance in various commercial, industrial and limited residential applications where protection from fungal decay and insects is required.
Our CCA Treated Plywood is Available in the Following Grades:
¼, ⅜, 15/32, 23/32″ ACX
15/32, 19/32, 23/32″ Rated Sheathing
19/32 & 23/32″ T&G Underlayment
19/32″ T1-11 4″ & 8″ O.C.