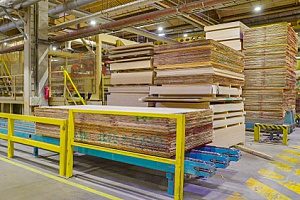 CCA Resistant-Treated Plywood is Chromated Copper Arsenate (CCA) treated plywood that protects against both decay and insect damage, and is also relatively inexpensive. Both extremely effective and durable, CCA treated plywood is used wherever wood structures come in contact with soil or concrete, or in other projects where decay resistance is integral.
CCA Treated Plywood Features
Chromated Copper Arsenate (CCA) is the world's most widely used preservative, and has been used to treat wood against fungal decay and termites for nearly 70 years. The chromium acts as a chemical fixing agent assisting the other chemicals to affix into the timber. The copper acts primarily to protect the wood against decay, fungi, and bacteria, while the arsenic works as a inspect-killing agent, protecting against termites while also improving against weather-resistance and assisting with long-term paint-adherence.
Having been manufactured since the mid-1930's, wood treated with CCA is instantly recognizable for the greenish tint it imparts to plywood. In addition to treating against rot, bacteria and vermin, CCA-treated plywood is, when used correctly, harmless to people, plants and animals, and is both resilient and economical.
Our CCA Treated Plywood is Available in the Following Styles And Sizes:
¼, ⅜, 15/32, 23/32″ ACX
15/32, 19/32, 23/32″ Rated Sheathing
19/32 & 23/32″ T&G Underlayment
19/32″ T1-11 4″ & 8″ O.C.