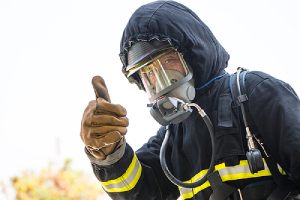 Modern buildings boast a host of safety features that can help keep damage to a minimum during fires. Improving fire safety requires a holistic approach, and creating fire-safe buildings is one of the earliest steps in the process. Fireproof and fire-resistant building materials should be used wherever possible, and one popular product designed with early fire suppression in mind is fire-retardant plywood.
To understand what happens when this wood is exposed to fire, it is useful to have a basic idea of how it is produced. The wood is created using a process known as impregnation to ensure it is fully infused with fire-retardant chemicals. The plywood is put through a dryer to dry the glue between the veneers, and then kiln dried after it is impregnated with the fire retardant chemical to lock the chemical into the cells of the wood.
A fire-retardant solution is then pumped from storage tanks into the retort. Then, an amount of pressure is applied continuously to infuse the wood with the chemicals; the precise amount of time will depend on the size of the wood, its species, the desired standard, and the type of fire retardant being used.
After the fire retardant is drained from the retort, it is vacuumed once again to remove excess solution. The wood products will then be dried in a kiln or with a fan. Building codes require these types of plywood to be dried to a moisture content of 15 percent or less.
Samples of the wood then undergo quality control tests to ensure it meets the relevant standards. In addition to these internal checks, third-party inspectors regularly visit the plants creating this wood to confirm their quality control practices.
Fire Retardant Plywood Building Code Requirements
According to the International Building Code, fire-retardant wood must have a listed flame spread index that is 25 or less and not show any signs of progressive combustion when ASTM E84 or UL 723 testing is carried out for a further 20 minutes. In addition, the flame front cannot progress further than 10.5 feet beyond the centerline of the burners during the test.
Stamps on the wood indicate the wood's brand, treating manufacturer, species, drying method, inspection agency, flame spread, and referenced standards; exterior fire-retardant wood will also list its referenced rain test.
It is important to look for these stamps as true fire-retardant plywood is not the same as wood that has had a fire-retardant coating applied to its surface. Although these coatings do offer some protection against the spread of flames, they do not come close to offering the protection of fire-retardant wood.
How Fire-Retardant Plywood Reacts To Fire
Fire-retardant plywood does burn when it is exposed to fire, but the way it burns is different from untreated wood. It is designed to burn more slowly and create chemical reactions to minimize damage and allow people valuable time to respond to the fire. Outlined below is a closer look at what happens to this type of wood in fires.
Releases A Non-Combustible Gas & Water Vapor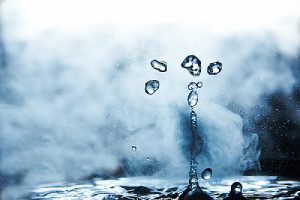 When fire retardant plywood is exposed to fire, it releases a non-combustible gas along with water vapor to resist ignition and prevent the fire from spreading to other surfaces.
Forms A Protective Layer of Char
Fire retardant plywood is created in a way that allows a thin layer of protective char to form on it during a fire. Charred wood is a mild flame retardant, and charring is one of the oldest methods of protecting wood from the fire. Char created by applying heat and fire to the exterior of a wood product for a short time creates an insulating effect on the outer layer of the wood, slowing the burn and making it more difficult to ignite again.
The black soot of the burn will not penetrate beyond the surface of the wood unless there is extended burning at high heat. The depth of charring during specific burn conditions is one of the metrics used in quality control tests.
Hold Its Strength Longer Than Other Plywood
The chemical properties of fire retardant plywood allow it to maintain its strength for a longer time than untreated wood. In the past, there were some concerns about fire-retardant woods losing their strength in high-temperature applications such as roof sheathing, but modern formulations provide excellent strength performance. To provide further peace of mind, the structural integrity of burned fire-retardant plywood is tested during quality control.
Allows More Time For People To Escape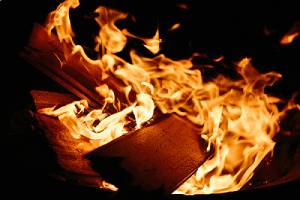 The enhanced ability to hold its strength means that fire-retardant plywood can maintain the stability of a structure for longer in a fire. This gives people life-saving extra time to escape to safety and allows first responders more time to control the fire.
Learn More From Curtis Lumber & Plywood
According to a report from the Modern Building Alliance, prevention is the main driver for addressing fire safety in buildings. Prevention is a multi-faceted endeavor that starts with the design of the building, and fire-retardant plywood and lumber play an important role in slowing the spread of fire and minimizing damage. To learn more about fire-retardant plywood products that can keep your building safe, get in touch with the experts at Curtis Lumber & Plywood.