Chromated Copper Arsenate (CCA)-treated wood is a type of material known for its durability and its resistance to rot and decay, among other characteristics. This type of wood is pressure-treated with CCA, a chemical made up of chromium, copper and arsenic. It is typically used to build outdoor residential projects like decks and playgrounds, as well as other wooden structures that come into contact with concrete or soil.
CCA was the most commonly used preservative in the world until 2004. For decades, it was utilized as a way to protect against insect damage and fungal and bacterial decay. The pesticide also allows other chemicals to affix themselves onto the wood and helps with weather-resistance and long-term paint adherence. First manufactured in the 1930s, CCA-treated wood is recognizable because of its greenish hue.
Sizes, Weights & Thicknesses
CCA-treated plywood comes in several different types of sizes and styles:
¼, ⅜, 15/32, 23/32-inch ACX
15/32, 19/32, 23/32-inch Rated Sheathing
19/32" T1-11 4-inch & 8-inch OC
19/32 & 23/32-inch T&G Underlayment
After drying, treated deck boards can weigh roughly 0.25 pounds per cubic foot (pcf) more than their untreated counterparts. According to americanpoleandtimber.com, CCA-treated wood (lumber, timber and plywood) can have preservative retention levels between 0.25 pcf and 2.50 pcf.
Uses & Benefits
CCA-treated wood is perfect for outdoor projects like decks, picnic tables and playgrounds. It is also sometimes used in marine facilities, cross-arms, utility poles and pilings for land and freshwater use. It can also be used for highway structures like bridge parts, posts and guardrails, as well as for foundations of agricultural or commercial construction projects like fences.
This type of wood is better than other materials primarily because it is inexpensive and long-lasting, in addition to its effectiveness in protecting wooden structures against rot and decay and damage from termites and other vermin. CCA-treated plywood, if utilized properly, also does not harm human health or the environment. In fact, CCA is one of the many pesticides registered under the Federal Insecticide, Fungicide, and Rodenticide Act (FIFRA) by the U.S. Environmental Protection Agency, which heavily regulates the preservative's production and use. According to the Wood Preservative Science Council, research also shows that the possible level of arsenic exposure from CCA-treated wood is substantially lower than the amounts people are exposed to on a daily basis when consuming food and water.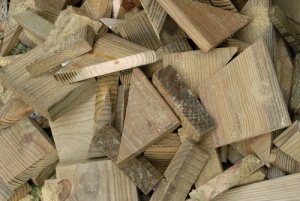 Another advantage of CCA-treated wood is that it is easy to clean and maintain. This type of wood can usually be cleaned by applying an oil or water-based penetrative coating. This helps reduce possible exposure to chemical residues.
In short, CCA-treated wood is typically strong for its weight, clean to the touch and uses a renewable, energy-efficient resource.
However, it is important to note that in 2001, many people sent the EPA petitions to prohibit the use of CCA in playgrounds due to possible health concerns linked to exposure to chemical residues derived from contact with the wood and soil. The arsenic contained in CCA specifically drew the most health concerns, as exposure to this chemical can lead to higher risks of certain forms of cancer.
A total ban on CCA-treated wood was never officially implemented, although several manufacturers agreed to voluntarily cancel the majority of residential uses of the pesticide beginning on the last day of 2003. Thus, most playgrounds and decks built after 2004 are made of other types of wood (cedar, redwood, etc.)
Where To Find More Information On And Buy CCA-treated Wood
If you're seeking further details about CCA-treated wood and are considering a purchase, look no further than Curtis Lumber & Plywood in Springfield, Virginia. Founded in 1957, they are an independently owned and operated wholesale distributor that services the Mid-Atlantic region. Curtis offers four different types of CCA-treated plywood, as well as other treated products like Copper Azole, Exterior Fire-X™, Micro-Guard™ and Pyro-Guard. They also sell several different types of non-treated plywood like ACX, Marine Grade and Southern Yellow Pine and offer environmentally safe "green building" plywood projects for both commercial and residential use.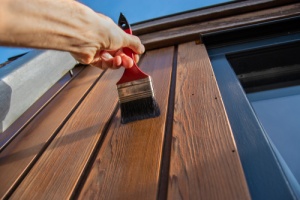 It's also important to know the proper techniques for handling, cleaning, maintaining and disposing of CCA-treated wood, so be sure to do your research by asking Curtis if they can offer any advice related to these subjects.
Curtis's experts are quick to respond to customer inquiries, and even answer their personal phones. They can furnish direct trailer load shipment and can also pull orders of pieces for special projects. Call Curtis at (703) 972-1947 or contact us online for more information.