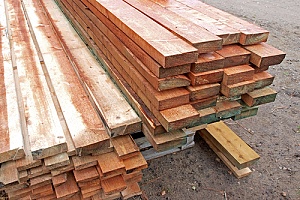 Chromated copper arsenate (CCA) is a water-based chemical compound that has been used as a wood preservative since its invention in the 1930's. Chromated copper arsenate contains chromium, copper and arsenic.
Chromated copper arsenate is actually a type of pesticide that protects wood against insects such as termites, fungi and other pests that can attack and threaten the integrity of wood products. Copper is a natural fungicide; arsenate is a form of arsenic, which is a pesticide; and chromium binds the components to the wood when the wood is impregnated with the CCA compound.
Use of CCA Products in the United States
Lumber that has been treated with CCA is the best choice for use outdoors or in areas subjected to moisture. In fact, CCA-treated wood is most often used in marine facilities for pilings and structures, utility poles and cross arms, pilings for inground and freshwater uses, commercial and agricultural foundations for building structures and highway features such as bridge components, guardrails and posts. Other uses of CCA treated wood include roofing shakes and shingles, permanent wood foundations and certain other commercial applications.
Benefits of Using CCA Treated Wood
For many decades, CCA has proven to be very effective at prolonging the life of wood products in the most challenging outdoor environments. CCA preservative treatment is effective for a long time at a relatively low cost. CCA-treated wood is clean, dry, non-slippery, paintable, low in odor and has a pleasing appearance.
Is CCA Treated Wood Safe?
Yes, according to the Wood Preservative Science Council (WPSC). The WPSC states that seventy years of safe use and the body of sound scientific and medical evidence demonstrate that CCA pressure-treated wood is safe when used as recommended. Research is ongoing, but the data so far indicates that CCA-treated wood presents no unusual risks.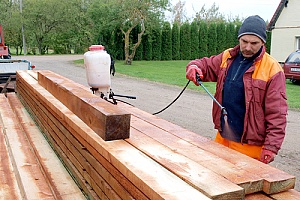 Environmental concerns arose in the United States over the chromium and arsenic in this compound, leading manufacturers to voluntarily discontinue production of CCA-treated lumber for residential use. However, the Environmental Protection Agency (EPA) has not banned chromated arsenicals and does not require the removal of existing structures made with wood treated with chromated arsenicals or the surrounding soil.
Arsenic, copper and chromium are naturally occurring substances. CCA-treated wood was studied in 2004 by researchers at the University of Alberta, Canada. They evaluated the potential toxicity of exposure to children playing on playsets made from CCA-treated wood. The researchers found that the levels of arsenic residues were far below those which normally occur in diet and drinking water.
In 2006, researchers in Florida conducted a similar study. They found no detectable differences in exposure between children who played on playsets made from CCA-treated wood and children who played on playsets made from other materials.
EPA Findings
To date, the EPA has not noted any unreasonable risks associated with either the treatment or the use of CCA-treated wood. The EPA has evaluated the use of CCA-treated wood in residential settings and studied the risks to children who play on decks and playsets made with CCA-treated wood.
The EPA found no unacceptable risks to the public for existing CCA-treated wood being used around homes. Accordingly, the EPA does not believe people need to remove or replace CCA-treated wood, nor does the EPA believe the wood needs to be coated with a product to minimize exposure. Furthermore, the EPA does not recommend that the surrounding soils be removed or replaced. However, the EPA is re-evaluating CCA as part of a mandated re-registration process for all pesticide products.
Department of Health and Human Services
The Agency for Toxic Substances and Disease Registry (ATSDR), an agency of the United States Department of Health and Human Services, also completed an extensive review of inorganic arsenic in 2007. ATSDR identified no studies of American populations which identify any increased cancer risk from low dose oral exposures. ATSDR also recognized the extensive recent information and ongoing reevaluations.
Extensive data supports the conclusion that low dose oral exposures of arsenic, such as those in the diet and drinking water of American populations, do not result in any increased cancer risk.
Contact the Lumber Experts at Curtis Lumber and Plywood for More Information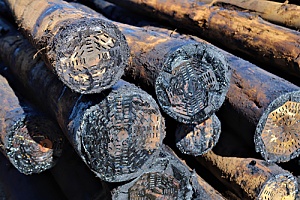 If you need pressure-treated wood for your project, talk to the knowledgeable professionals at Curtis Lumber and Plywood. They can talk to you about the best uses for CCA-treated wood and the wide range of pressure-treated wood that is available today. The experts at Curtis Lumber can save you time and money by making sure you get the right kind of treated lumber for your application and arrange a delivery.