Pressure Treated Wood Described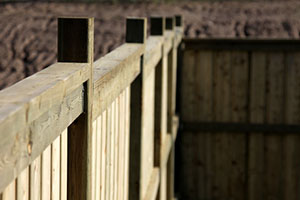 Pressure-treated wood is wood that has undergone a special chemical treatment process to make it more durable and less susceptible to decay, insect infestation, mold, and water damage. Some pressure treatments can even make the wood fire retardant.
To make pressure-treated wood, lumber is injected with treatment chemicals under enough pressure to drive the chemicals into the lumber's cell structure. This pressure treatment process makes the lumber suitable for construction projects where the wood will be exposed to the elements.
Types of Projects Requiring Pressure Treated Lumber
Pressure-treated wood can be expensive. To save unnecessary costs and to protect it from decay and insects, it is important to get the right kind of pressure-treated wood for your project. The American Wood Protection Association (AWPA) has developed a use category system for pressure-treated lumber. The system identifies the most effective treatment process for specific uses and places it into a category. Each piece of pressure-treated lumber will be assigned to one of the use categories and labeled accordingly. You can find the label on the end of a piece of lumber.
Residential Projects
The AWPA published a wonderful graphic showing the various residential uses for pressure treated wood applications and the category of pressure-treated wood that should be used for it. For general residential indoor and outdoor use, most pressure-treated lumber is treated with water-borne preservatives such as chromate copper arsenate (known as CCA). CCA treated wood is considered safe and not harmful to the environment. It is used in decks, fences, docks, and building structures. Pressure-treated lumber used in residential projects is any lumber in the use categories ranging from UC 2 to UC 4.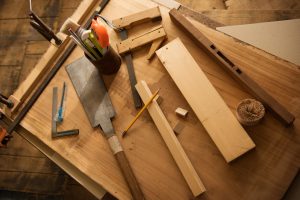 Interior Above Ground Use. Lumber in category UC 2 is designed for above ground, interior applications only, where the wood may be exposed to damp conditions. It is not suitable for exterior applications. Projects such as interior trim, shelving, and framing are suitable for UC 2 lumber.
Exterior Above Ground Use. UC 3 lumber is used for above ground, exterior construction. UC 3 lumber will be categorized as UC 3A, which is lumber that is coated and is good for rapid water runoff. UC 3B lumber is uncoated and can handle slower water runoff. UC 3A lumber is suitable for fascia and trim, and covered porch flooring. Lumber labeled UC 3B is good for joists and beams, exterior stairs not in contact with the ground, fencing pickets, deck railings and roofing shingles and shakes.
Ground Contact Uses. For wood that will be in contact with the ground, you need lumber that has been treated to withstand the moisture associated with ground contact. Such lumber has twice the level of chemical retention and protection as that of above-ground treated wood. It should be used whenever the lumber will be less than six inches from the ground or has poor ventilation, or in projects where wood is difficult to maintain or replace.
The category of lumber suitable for ground contact application is UC 4 lumber. It is suitable for exterior applications where the wood will be in contact with the ground and freshwater. UC 4 is subdivided into two categories: UC 4A, for general use, and UC 4B, for heavy-duty use.
UC 4A general use lumber is suitable for projects such as garden boxes, deck posts, mailbox posts, structural posts and joists that are in contact with the ground.
UC 4B lumber is for heavy-duty use such as permanent wood foundations.
Projects in High Moisture Areas
Oil-based preservatives are used to treat lumber for use in utility poles, cross arms and indoor pools.
The right grade of pressure-treated lumber for use in high moisture areas depends on a variety of factors. One category is UC 4 C, which is extremely heavy-duty use. It includes projects where the lumber will be in contact with the ground in severe environments that present a higher potential for deterioration. Common examples include utility poles in semi-tropical or tropical locations, and fresh and saltwater pilings.
Marine Grade
For wood construction of docks, pilings and marine structures, you need to use marine-grade lumber. Wood treated with creosote preservatives is used in heavy construction of bridges, guardrails and docks. For marine uses, marine-grade lumber is treated to protect it against rot as well as protection against specific types of borers that are present in various marine locations. Marine-grade lumber is divided into categories that are based on the region of the country where the project will be located.
Contact the Pros at Curtis Lumber and Plywood for more information about pressure-treated lumber
Make sure you speak with the lumber experts at Curtis Lumber and Plywood. They can answer your questions about the right pressure treated lumber for your projects and help you select the right materials to ensure your project is a success.