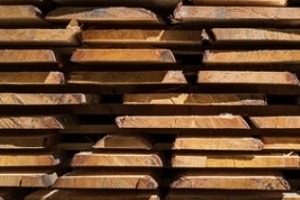 Preservative treated lumber and plywood is a great way to help ensure constructions withstand the test of time and resist damage from water or termites. While there are times when treated lumber is a huge benefit, there are other instances where it may not be the best solution.
This review discusses the nature of preservative-treated wood, the chemicals used to prevent damage from water and insects, and guidance on the appropriate use of preservative treated materials.
What Is Preservative Treated Lumber & Plywood?
Preservative treated lumber and plywood is pressure-infused with chemical formulations to help prevent damage from insects and rot. Not all species of wood can be treated due to their density, so you'll not find any treated hardwoods. Southern Yellow Pine (SYP) is most frequently used for treatment, though other pine species, Douglas Fir, and spruce are also treated.
In general, treated softwoods like SYP, fir and spruce, are cheaper than hardwoods and wood species like cedar, cypress and teak that are naturally rot and insect resistant.
From the 1940s until the early 2000s, Copper Chromium Arsenate (CCA) was the primary preservative treatment used. With concerns about CCA as a carcinogen, effective December 31, 2003, chromated arsenical manufacturers voluntarily canceled virtually all residential uses of CCA. Wood products treated with CCA are no longer used in most residential settings, including decks and children's playsets. Check the local building code to determine whether CCA-treated material may be used for the project.
Replacing CCA, there are many chemical formulations approved for use in residential applications. Most commonly found today are Copper Azole (CA), Micronized Copper Azole (MCA), and Alkaline Copper Quaternary (ACQ).
Choosing The Right Treatment
Treated lumber comes in varying levels of chemical concentration to achieve long-term durability based on their intended use. The American Wood Protection Association (AWPA) defines standards of concentration and Use Categories to guide selection of treated material based on application, e.g. above-ground, ground contact, marine use.
Preservative treated materials are typically tagged with a label identifying the treatment chemical, concentration and intended use categories. The more common Use Categories for residential applications are below. Refer to AWPA for the complete list of Use Categories and detailed explanations for each.
Use Category

Brief Description

UC1

Interior Dry

UC2

Interior Damp

UC3A

Exterior Above Ground, Coated w/ Rapid Water Runoff

UC3B

Exterior Above Ground, Uncoated w/ Rapid Water Runoff

UC4A

Ground Contact, General Use

UC4B

Ground Contact, Heavy Duty

UC4C

Ground Contact, Extreme Duty
Preservative Treated Lumber Can Be Used For Any Outdoor Project
Whether building a deck, adding a raised bed to the garden or used for barn construction and siding, treated lumber is an ideal choice for any outdoor construction project. Be sure to choose wood treated to the right chemical concentration based on its intended use. Will the material be used in-ground or elevated? Will it need to sustain standing water or will it be used vertically or at an angle to allow rapid water run off? Do you intend to paint or stain the treated wood?
Treated lumber and plywood may not require the same level of maintenance as untreated wood used outdoors, but it does require some regular attention to maximize its lifespan. Well-maintained treated material can last 20 years or longer.
Treated Lumber for Indoor Projects
Although there are many notable benefits of treated lumber for outdoor use, there are some potential concerns you could experience with treated lumber inside your home or commercial space.
Historically, preservative treated wood products were not intended for use indoors where they might come in frequent contact with skin or their off-gasses inhaled that could trigger allergic reactions. Today, chemical formulations, such as MCA, can make the use of preservative treated material indoors acceptable for specific applications. Check your local building code for appropriate indoor use of preservative treated material.
Treated Lumber vs. Untreated Lumber: The Pros And Cons
Treated lumber provides resistance against rot, water, and termites at a price point less than that for naturally resistant wood species. Untreated softwood lumber and plywood simply does not hold up in exterior use unless painted, stained or sealed against water penetration.
Both treated and untreated lumber can be stained and painted for the desired aesthetic appeal. Typically, untreated lumber is kiln dried to bring the wood moisture content down to around 15%, which allows the wood to readily accept stain or allow paint to adhere well to the surface. Treated material is most often not kiln dried and can have a moisture level of 25%-28% or more, which is not conducive to staining or painting and the reason treated lumber often requires a year or so to get to a workable moisture level.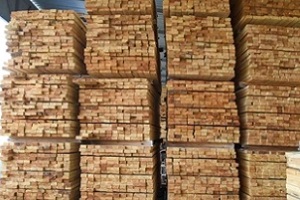 However, treated lumber and plywood can be kiln dried after treatment (KDAT) and is available in the market, though may be more difficult to find and has a higher cost than "wet" lumber and plywood. KDAT preservative treated wood is generally dried to nearer 20%, making it paint-ready sooner than its wet cousin. Plus, kiln dried preservative treated material is preferred – if not required – when using indoors.
The drawbacks for wet treated lumber, in particular, are that the chemicals can cause skin irritation or allergic reactions for some if used indoors, and treated lumber typically costs more than untreated lumber of the same wood species. On the other hand, untreated lumber used outdoors does not come close to the same level of durability and longevity that treated lumber is able to provide.
How Long Does Treated Lumber Last?
The longevity of treated lumber depends on many factors, including but not limited to the climate that you live in, the way in which you use the material, and how well it is maintained over time. Treated lumber can last 20 years or more without needing to be replaced.
Get In Touch With Curtis Lumber & Plywood Today
If you are a retailer interested in a new or additional treated lumber resource, then look no further than Curtis Lumber and Plywood. We take pride in providing our customers with the highest quality lumber possible, and we offer a range of treated products to meet challenging project needs. To learn more and to discuss your specific needs, give us a call or send us a message today.