Wolmanized® wood is a brand of pressure-treated wood used for heavy duty outdoor projects. Wolmanized® wood is named after Dr. Karl Heinrich Wolman, who discovered this particular wood preservation process in Germany in 1911. By comparing Wolmanized® wood versus pressure-treated wood you will be able to determine which one is best for your project.
Wolmanized® wood is pressure-treated with chromated copper arsenate (CCA) preservative to provide structural protection from termites and fungal decay. In the early 2000's, concerns over the toxicity of arsenic in CCA led to the development of other less toxic preservatives for wood used in residential construction. Pressure-treated wood used in residential projects are now treated with other wood preservative chemical formulations.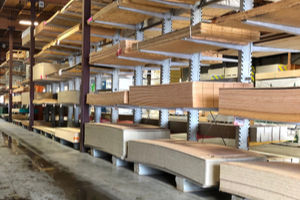 Today, Wolmanized® wood and plywood may be used for non-residential applications in which the wood will be exposed to water, soil, concrete or masonry, subject to periodic wetting, or exposed to moisture or high humidity. Suitable applications include:
Lumber for marine or freshwater use;
Pilings;
Poles;
Highway construction;
Poles, piles and posts used as structural components on farms;
Agricultural fence posts (round, half-round, quarter-round);
Shakes and shingles;
Cooling towers.
Higher Retention Levels Are More Effective at Preventing Decay
As noted above, the chemical used to preserve Wolmanized® pressure-treated wood is a mixture of oxides of copper, chromium and arsenic. This compound is known as CCA. The Wolmanized® CCA wood preservative was scientifically formulated to render wood ineffectual and unappealing as a food substance for insects and fungi. CCA also helps keep the wood clean and safe to handle when used as recommended.
The arsenic in Wolman® CCA is unique because it is an inorganic form of pentavalent arsenate — a naturally occurring trace element. In the Wolmanizing treatment process, the pentavalent arsenate becomes fixed, or chemically bound, in the wood cells as highly leach-resistant insoluble precipitates.
Wolmanized® wood is treated using a highly-controlled process. Lumber, timbers or plywood is loaded onto tram cars. The trams are moved into a large, horizontal treating cylinder. The cylinder door is sealed, and a vacuum is applied to remove air from the cylinder and the wood cells. CCA preservative is then pumped into the cylinder and subjected to pressure sufficient to force CCA into the wood, where it impregnates the wood at the cellular level. Total treating time varies depending on the species of wood and the amount of preservative required. The wood is then moved to a concrete drying pad until the wood is dry enough to handle safely.
Types of Wolmanized® Wood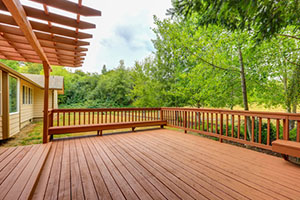 For residential and other applications requiring a next-generation preservative, you can utilize Wolmanized® Natural Select® wood.
Wolmanized® Residential Outdoor wood may be used for residential decks, gazebos, walkways, landscaping and other exposed projects. It is protected with a copper-based preservative (copper azole) containing an organic fungicide.
Other Wolmanized® wood products include Wolman® E (made with copper azole with BARamine® for both above-ground and ground-contact applications) and Wolman® AG (metal-free preservative for use in above-ground applications).
Effects on Fasteners and Hardware
The conditions that are favorable to fungal and insect infestation also foster metal corrosion. Consequently, metal products in contact with pressure-treated wood must be corrosion-resistant. The 2006 International Residential Code states, "Fasteners for pressure-preservative and fire-retardant-treated wood shall be of hot dipped zinc-coated galvanized steel, stainless steel, silicon bronze or copper."
Note that many building codes regard preserved wood as one product, regardless of the formulation used for treatment. However, there are differences between copper-based and borate-based preservatives (used for indoor applications). Hot-dipped galvanized or stainless steel fasteners and connectors are recommended for use when lumber is treated with a copper-based preservative, including CCA. Testing on many non-CCA preservatives in pressure-treated wood shows them to be more corrosive than CCA.
Levels of Metal in Pressure Treated Woods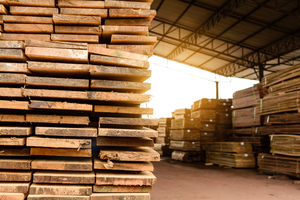 CCA was replaced by several different newer compounds amidst the concern about using CCA-treated wood in residential applications. However, some of the newer preservatives contain higher amounts of copper. As copper is an expensive component, many manufacturers now produce pressure-treated lumber with retention levels tailored to the product's intended application.
Environmental Impact
Once the Wolman® CCA is fixed in the wood cells, it is highly leach-resistant. It has proven to be harmless to people, plants, pets and the environment.
The Woman® treatment impregnates the wood with the preservative compounds in a highly insoluble state, which keeps it more stable than many other pressure treatment compounds. Because it has a high level of fixation, it has a high level of permanency in the wood, making it leach-resistant and durable. The level of fixation, however, is dependent upon wood species, preservative formulation, concentration and temperature.
Consult with the Experts About Which Wood Is Right for Your Project
Before you select pressure-treated wood and hardware for your next application, talk to the lumber experts at Curtis Lumber & Plywood. They are knowledgeable about the different types of pressure-treated wood that are suitable for indoor and outdoor projects, residential, agricultural or commercial construction, and below-ground or ground-contact uses. Contact Curtis Lumber & Plywood for information and pricing.