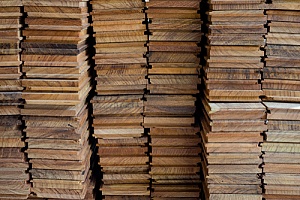 Pressure treated wood is wood that has undergone a special process to make it more durable and less susceptible to decay, insect infestation, mold, and water damage. Some pressure treatments can even make the wood fire retardant. There are different types of pressure treated wood, all of which are useful for a variety of different projects. What follows is a discussion of pressure treated wood and its different uses.
How Pressure Treated Wood is Made
To make pressure treated wood, lumber is first placed in a pressure chamber comprised of a horizontal steel cylinder (called a "retort") that resembles a rail car. Once the lumber is properly secured in the retort, a vacuum removes the air from the cylinder and from the cell structure of the lumber. The retort is then flooded with treatment chemicals under pressure. Using 160 pounds of pressure, the treatment chemicals are driven into the cell structure of the lumber.
Once the pressure treatment is complete, the lumber is moved to a drip pad until it cures and dries enough to be shipped to a supplier. The amount of time it takes to dry depends on the climate and exposure to sunlight.
Types of Pressure Treated Lumber
A variety of treated lumber is available in a wide range of sizes and applications. Knowing the different types is important to making sure to select the right product for your project, saving you money and headaches later on.
PYRO-GUARD® Products
PYRO-GUARD® is fire-retardant-treated lumber and plywood that is produced in accordance with quality control procedures mandated by the International Code Counsel Evaluation Service (ICC-ES).
Exterior Fire-X™ (XFX) Lumber & Plywood
Exterior Fire-X™ (XFX) is pressure-impregnated fire-retardant lumber and plywood that provides comprehensive fire protection for projects that will likely be exposed to hot outside weather, as well as other humid environments. It can be used outdoors and indoors, and offers the workability of wood with the fire-safety benefits of non-combustible materials.
Exterior Fire-X™ BLUE Lumber & Plywood
Exterior Fire-X™ BLUE is color coded with a pressure-applied blue stain for easy identification, and has the same fire performance characteristics as Exterior Fire-X™. Exterior Fire-X™ BLUE is widely specified by government agencies and is often used in nuclear construction and ship-building industries.
Micro-Guard™ Lumber & Plywood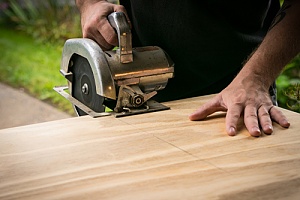 Micro-Guard™ lumber and plywood is pressure-treated wood that protects against corrosion, termites and fungal decay. At Curtis Lumber and Plywood, you will only find Micro-Guard™ Treated Lumber and Plywood that has been Kiln Dried After Treatment (KDAT) to ensure that all products are brought down to workable moisture levels. KDAT prevents moisture-related problems— such as warping and twisting in lumber, or buckling or crowning in installed plywood projects—from occurring in the future.
Copper Azole (CA) Treated Lumber
Copper Azole (CA) Treated Lumber is pressure-treated with copper-based preservative that provides long-lasting resistance to decay, rot, and termites.
CCA Rot & Decay Resistant-Treated Plywood
Chromated copper arsenate (CCA) is a water-based wood preservative that has been used since the mid-1930s and is instantly recognizable for the greenish tint it imparts to plywood. This preservative provides long-term resistance against decay, rot and termites.
Questions have been raised about the safety of exposure to the CAA chemicals. Studies conducted by the Environmental Protection Agency have concluded that the chemical preservatives, most notably arsenic, have not been found to leach into soil or water. Independent laboratory studies have also found no increased risk of cancer to those who work with CCA-treated wood on a daily basis.
Uses of Pressure Treated Lumber
The lumber will have marks or tags indicating what types of projects are suitable for its use. It also will be graded based on its appearance. For example, lumber with fewer knots or other cosmetic blemishes get a higher grade, but will cost more.
Residential Indoor & Outdoor Use
For general residential indoor and outdoor use, wood treated with water-borne preservatives such as CCA treated wood is ideal. It is used in decks, fences, docks, and building structures.
Heavy Construction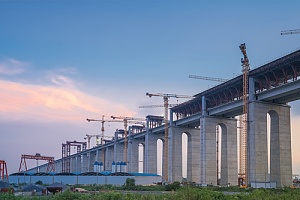 Wood treated with creosote preservatives is used in heavy construction of bridges, guardrails, and docks. Oil-based preservatives are used to treat lumber for use in utility poles, crossarms, and indoor pools.
An important consideration in selecting the type of pressure treated wood your project needs is whether it will be used above ground or be in contact with the ground. For above-ground projects, the wood should be at least six inches from the ground and can only be used when the wood has proper ventilation and drainage.
For wood that will be in contact with the ground, you need lumber that is made to withstand the moisture associated with ground contact. Such lumber has twice the level of chemical retention and protection compared to above-ground treated wood. It should be used whenever the lumber will be less than six inches from the ground or has poor ventilation and in projects where wood is difficult to maintain or replace.
Speak to a Wholesale Lumber Supplier Today!
For help selecting the right type of pressure treated wood for your specific project or to acquire pressure-treated wood, contact the lumber experts at Curtis Lumber and Plywood. They have the knowledge and experience to help you select the right pressure treated lumber for your building applications and to provide the lumber you need for any project you have.