Meeting building fire codes, especially for buildings in high-density areas, is one of the most crucial steps in completing the building construction process. To improve overall building safety and ensuring building codes are being met, contractors are increasing their use of fire retardant wood for projects.
What Is Fire Retardant Wood?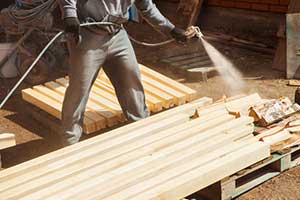 Fire-retardant wood has been treated with fire-retardant chemicals to produce a product that resists ignition and significantly slows the spread of fire. Many fire-retardant wood products are also tested for their durability in high moisture and heat, as well as for corrosivity, compatibility with paints and stains, and whether the flame retardant products leech from the wood.
Fire-retardant wood is not wood that has been treated with a coating or other external fire retardant and it must be fully incorporated into the wood to be considered a fire-retardant wood. Most importantly, fire-retardant wood is a critical safety precaution that attracts buyers, reduces insurance costs, and saves lives.
How Is Fire Retardant Wood Made?
All fire-retardant wood starts with kiln-dried untreated wood and plywood. The exact retardant applied to the wood depends on the manufacturer as most of the chemicals used are proprietary. However, almost all fire-retardant wood is made using a pressure system.
A high-pressure system is critical to the process because the wood cannot be considered fire retardant unless it has been completely infused with the chemicals. Surface treatments and partially infused wood are not acceptable for either fire code standards or the various manufacturing companies' quality control systems.
Retort Chambers
A retort chamber is used to create the necessary pressure. The untreated wood is loaded into the retort, which is then sealed. All the air inside the retort is removed, creating a vacuum into which the flame-retardant chemicals can be added.
The retort chamber is then completely filled with retardant chemicals, and pressure applied to make sure all the wood is evenly and fully treated. The amount of pressure and treatment time varies from product to product. Factors like the amount, thickness, and type of wood are all considered.
Quality Control Agents
Most companies then employ a combination of internal and third-party quality control agents to take core samples from each batch, who check for retardant concentrations and check the burn rate.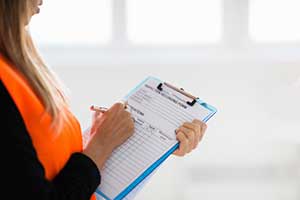 The wood must resist ignition and actively slow the spread of the fire to pass quality control requirements. Tests also usually check for depth of charring under specified burn conditions. The last consideration is the structural integrity of the burned wood.
For a batch to pass it cannot fail any of these quality tests, and much of the produced fire-retardant wood is tested well beyond the minimum requirements after passing in order to get an accurate measure of the batch qualities.
Can Fire Retardant Wood Get Wet?
This is a critical question for all construction projects, although it's more than a straight yes or no answer. Some fire-retardant wood can get wet, but not all.
The main difference is whether the wood has been treated to control the damp, both in terms of swelling and warping of the wood itself, and whether the fire-retardant chemicals can leach out of the wood when exposed to water. Water leaching causes a number of problems, but the primary concerns are degradation of the flame-retardant properties and pollution of nearby soil and local water systems.
Fire Resistant Wood Difference
Unfortunately, the process of making fire-resistant wood leech-proof is not the same, nor is it comparable to, preserved wood. Some products, like Exterior Fire-X Treated Lumber and Plywood, are tested for durability against moisture and high temperature, but the overall performance of the wood will be different from preserved wood without fire-retardant properties.
Fire retardant Wood is also specifically rated for interior or exterior use. Exterior wood should not be used for internal portions of a building, and internal wood should never be used in the exterior since it's not usually rated for exposure to moisture much less bugs and fungi.
Avoid Direct Contact With Soil
As an additional note, even leech resistant fire-retardant wood is not recommended for any part of a project that would put the wood in direct contact with ground soil. Because soil can hold a great deal of moisture even in dry weather it is likely to surpass the tested durability of the wood and cause degradation of the fire retardants and the wood itself.
What Is Fire Retardant Wood Used For?
Before using fire-retardant wood for any of these projects or building components you should check with local code requirements. Here are a few examples of interior and exterior projects where the use of fire retardant wood products should be considered.
Interior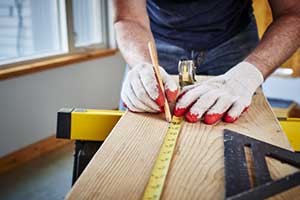 Fire-retardant wood is a great choice for halls and ceiling supports in residential buildings, particularly dense developments like townhomes and row-houses. Adding fire retardant wood to high-traffic areas can help protect building integrity in an emergency, giving families more time to escape and firefighters a better chance to get the fire under control.
Fire-retardant wood is also a good choice for TV and theater decorations, exhibition stands, and storage areas. It's also a great choice for internal partitions between rooms and between spaces in open-plan buildings since the retardant action will increase building safety in the case of an emergency.
Exterior
Fire retardant wood is often used in roof construction and shingling, in particular, since those are vulnerable areas of any building. Fire retardant wood provides an extra layer of security against wild-fire, lightning strikes, and even stray neighborhood fireworks.
It also has an important role to play in building support structure and framing. You may be required to use a certain percentage of fire-retardant materials in the building frame, and fire-retardant wood can be a cost-effective way of meeting and exceeding local fire codes.
Residential Buildings
In residential buildings, fire retardant wood is a good choice for decks and balconies, rails, external staircases, soffit, fascia, trim, and siding. Depending on local codes and requirements, fire-retardant wood can even be considered a non-flammable substance for these additions, making the finished building more insurance friendly as well as safer.
Additional Exterior Projects
Additionally, fire retardant wood is a preferred material for wooden outbuildings, workshops, sheds, feed storage barns, and especially stables. Particularly in large agricultural and ranch settings, fire-retardant wood is often a better option than traditional preserved wood or fire-retardant coatings.
Any building near fire-risks like standing trees, bushes, or other natural features can benefit from fire-retardant wood. It's also a good option for buildings that will contain highly flammable materials like grain storage, hay storage, sawdust, and more.
Exterior Fire-X Exterior Fire Retardant Treated Lumber & Plywood
Exterior Fire-X products are specifically designed and formulated with exterior use in mind. In addition to standard fire-retardant, their products are non-corrosive and are tested for moisture and heat endurance.
Every batch of their lumber and plywood is tested for prolonged exposure to both heat and moisture to simulate likely conditions on a build site or in a finished structure. They are also kiln-dried after treatment for guaranteed workable moisture levels. Their fire-retardant wood is approved for paint and stains alike. The treated wood is also considered a non-combustible material by many building codes.
Exterior Fire-X Products
They also offer a blue-stained version of their products perfect for building sites with multiple varieties of lumber. Exterior Fire-X BLUE is easily identifiable from other products, and stands out in construction, making it easy to make sure you're using the right lumber in those key areas. Although their brand name suggests primarily exterior uses, Exterior Fire-X Fire Retardant products are equally well suited to internal uses.
You can purchase lumber from them in the following sizes:
Standard Exterior Fire-X Lumber
2×4 – 10, 12, 16'
2×6 – 10, 12, 16'
2×8 – 10, 12, 16'
2×10 – 10, 12, 16'
2×12 – 10, 12, 16'
4×4 – 10, 12, 16'
6×6 – 12, 16'
5/4×6 Radius Edge Decking – 12, 16"
Rated Sheathing 15/32, 19/32 & 23/32″
Exterior Fire-X BLUE
2×4 – 8, 16′
2×6 – 16′
2×10 – 16′
Rated Sheathing ⅜, 15/32, 19/32 & 23/32″
Pyro-Guard Interior Fire Retardant Treated Lumber & Plywood
Like Exterior Fire-X lumber products, Pyro-Guard Interior Fire Retardant Treated Lumber and Plywood is approved for both interior and exterior applications. In addition to burn resistance testing, all of Pyro-Guard's products undergo extended testing in high-moisture and heat conditions to make sure they meet high standards of durability.
If Pyro-Guard wood were to be exposed to flame the wood would produce a non-combustible gas and water, helping to prevent the fire from spreading to other surfaces as it resists ignition itself. It does allow for a thin layer of protective char to form on the wood, as charred wood is actually also a mild flame retardant. However, the characteristic sooty black of the burn won't penetrate more than the surface unless exposed to high heat and extended burning.
Interior Pyro-Guard Lumber & Plywood Sizes
Pyro-Guard Interior Fire Retardant Treated Lumber and Plywood is available in the following sizes:
1x3x8′
1×4 – 10, 12 & 16′
1×6 – 10, 12 & 16′
1×8 – 12 & 16′
2×4 – 8-16′ & 20′
2×6 – 8-16′ & 20′
2×8 – 8-16′ & 20′
2×10 – 8-16′ & 20′
2×12 – 8-16′ & 20′
4×4 – 8, 10, 12 & 16′
ACX plywood ¼, ⅜, 15/32, 19/32, 23/32, 1″
Rated Sheathing Plywood ⅜, 15/32, 19/32, 23/32″
Underlayment Grade Tongue & Groove (T&G) 19/32, 23/32″
Contact A Wholesale Lumber Dealer
Because of the labor demands creating and quality testing fire-retardant wood, it is best purchased from a Wholesale Lumber Dealer. For most applications purchasing from a wholesale dealer not only helps to bring the price of the product down but also makes ordering for large projects and developments easier since wholesale dealers will have more of what you need in the quantities you need it.
Both of the fire retardant wood companies mentioned in this article can be ordered from Curtis Lumber and Plywood, or contact your local wholesale retailer.