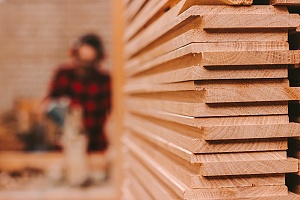 Building safety is a major concern in construction projects, and fire is one of the biggest threats to homes and businesses. Fire-retardant wood can be used to help meet building fire codes and improve a building's overall safety. In the event of a fire, this type of wood could prove to be a lifesaver as it can prevent fires from spreading too quickly. Wood gains fire-retardant properties through a type of pressure treatment, but it is important to understand that not all pressure-treated plywood is fire-retardant.
What Is Pressure-Treated Plywood?
Pressure-treated plywood is plywood that has undergone a process of infusing chemical preservatives into the wood to protect it against insects and rot. The plywood is placed inside a depressurized holding tank where the air is removed and replaced with a preservative. The process is considered one of the best ways to avoid rot and insects in wood, although it does not prevent corrosion and weathering.
Pressure-Treated Plywood Can Be Fire-Retardant
Because fire-retardant plywood also undergoes a pressure treatment process, some people mistakenly believe that all pressure-treated plywood is inherently fire-retardant. Fire-retardant wood produces a noncombustible gas and water when exposed to a flame. This stops the fire from making its way to other surfaces. A thin layer of char can form on the wood which protects it from further damage.
While some pressure-treated plywood does boast this property, it is important to know how to identify the wood that has undergone this process. In order to be considered fire-retardant, the wood must have been treated with special fire-retardant chemicals that enable it to resist ignition and slow the spread of fire.
Interior fire-retardant lumber may be used for plywood roof sheathing, rafters, floor joists, floor sheathing, roof trusses, platforms, and plywood subfloors and mezzanines, among other applications. Here is a look at how to determine if pressure-treated plywood is fire-retardant.
Proper Pressure Treatments Have Been Applied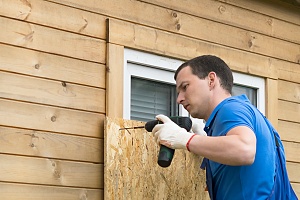 Fire-retardant wood undergoes pressure treatment during which a retardant is applied; these chemicals tend to be proprietary and vary by manufacturer. The wood goes inside a retort chamber, which is then sealed so the air inside can be removed. The flame-retardant chemicals are placed into the resulting vacuum and pressure is applied to evenly infuse the wood. Different thicknesses and types of wood will require different treatment times.
Proper fire-retardant plywood should not be confused with wood that has simply had an external fire-retardant coating applied to its exterior. The fire-retardant chemicals must be fully infused into the wood for it to be considered the fire-retardant variety and meet building codes.
The Pressure Treatment Used Meets Appropriate Code Compliance
Check for the appropriate code compliance if you are seeking fire-retardant wood. Fire-retardant wood will bear a stamp displaying its code compliance. It will appear in the shape of a rectangle divided into two sections. The section on the left will typically list the product name, the plant where it was treated, and the drying method and treating standard used. In the section to the right, the approved agency name and logo will appear along with the flame spread number, smoke developed number, product species, and ASTM E-84 reference. If the plywood in question is exterior fire-retardant wood, the seal will also list the ASTM D2898.
The flame spread number comes from a standard fire test that determines the surface burning characteristics and classifies it as A, B, or C. A flame spread number of 25 or lower is considered class A and is effective against severe fire exposure, while class B runs from 26 to 75 and class C ranges from 76 to 200. Fire-retardant wood needs a class A rating to be substituted for non-combustible materials.
The smoke developed number is also determined during the fire test using a baseline of burning red oak flooring as zero. The chemical formulation will be either type A or type B. Type A fire-retardant plywood is suitable for applications where relative humidity will not exceed 95 percent, while Type B is made to use where humidity stays below 75 percent. However, fire-retardant plywood that is made for exterior applications is available for places where humidity can exceed 95 percent.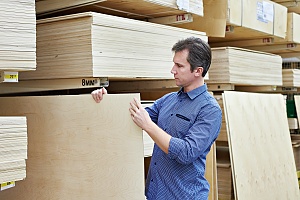 Fire-retardant wood normally undergoes a mix of third-party and internal quality controls in which core samples are checked for their burn rate and concentrations of retardant. To pass, the wood must meet two main criteria: it has to resist ignition and be able to actively slow the spread of a fire. It is also tested to determine how deeply it chars under certain burning conditions.
Consider Hiring A Company That Specializes In Fire-Retardant Plywood
Fire-retardant plywood can save lives by delaying the spread of fire and smoke which gives people more time to exit a burning building and allows fire crews additional time to get the fire under control. If you would like your construction project to enjoy the benefits of this type of wood, consider hiring a company that specializes in fire-retardant plywood like Curtis Lumber & Plywood. Call us at (703) 972-1947 or contact us online today to get started.